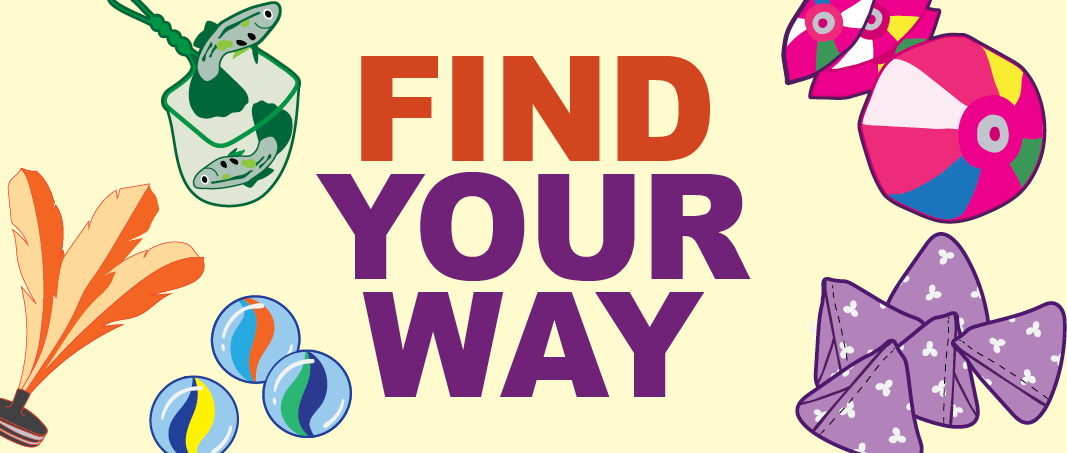 "Find Your Way" is an initiative to help persons living with dementia find their way around our bus interchanges and MRT stations with greater ease and confidence. Nostalgic murals of yesteryears are used to aid wayfinding as studies have shown that reminiscence can stimulate parts of the brain that deal with long-term memory and cognition and this was how the initiative came about.
The first of its kind in our local public transport nodes, "Find Your Way" involves segmenting the respective bus interchanges and MRT stations into distinct zones with each represented by an image of a different coloured nostalgic item. This is complemented by colour-coded directional floor stickers with corresponding images that point the way to the respective boarding berths or station exits. "Find Your Way" will progressively be extended to other bus interchanges and MRT stations frequented by elderly passengers. Find out more about the colourful murals at our existing roll-out locations.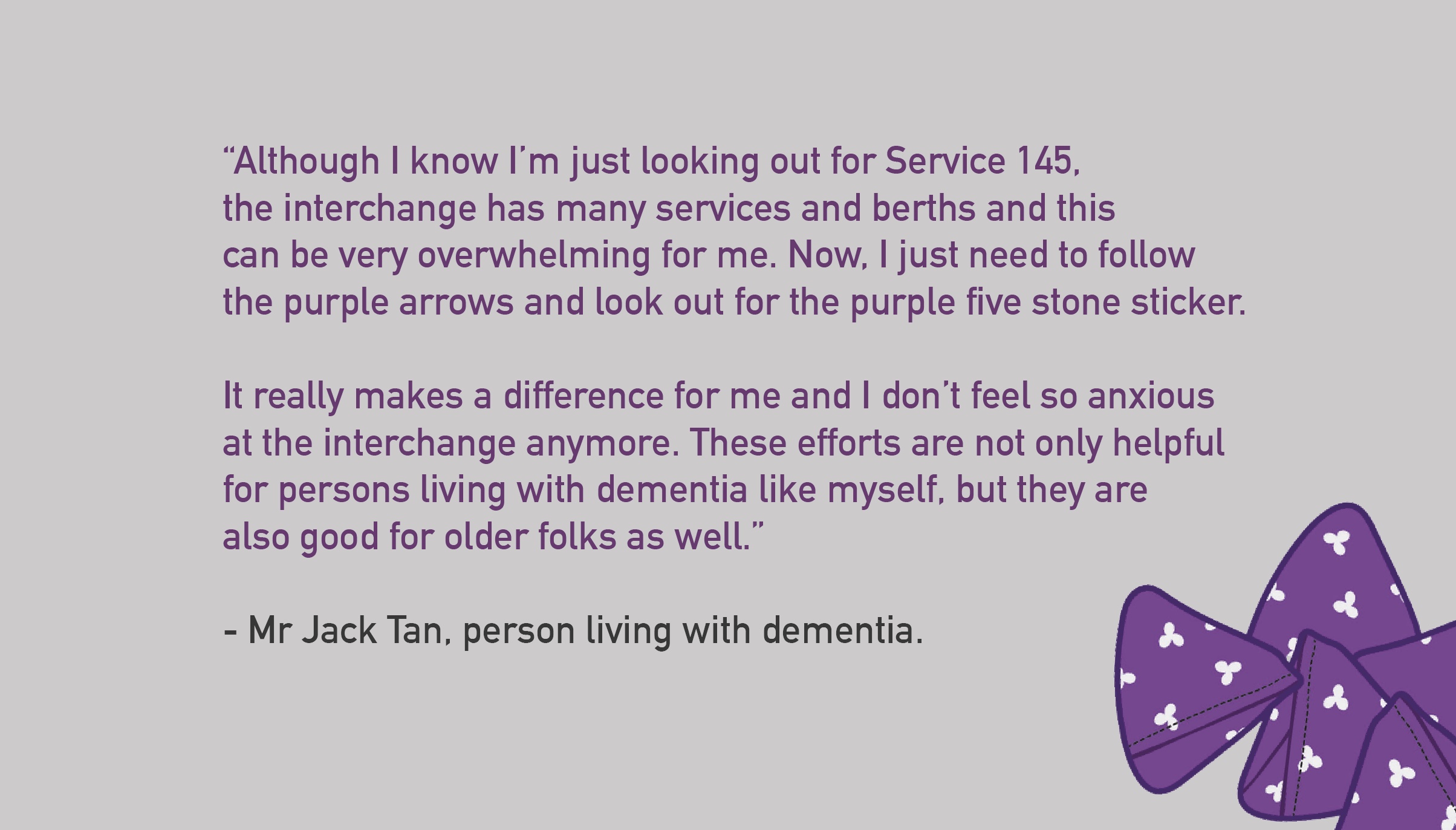 Find Your Way is a collaborative effort between SBS Transit and Dementia Singapore.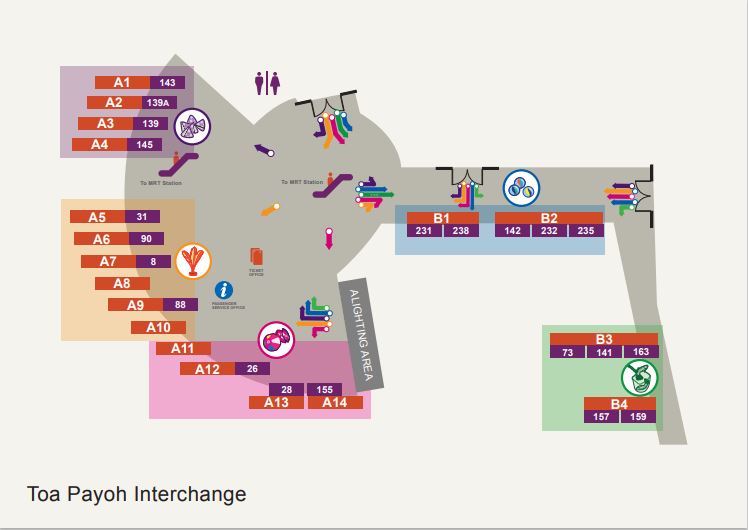 Murals of childhood games reminiscent of yesteryears were selected for Toa Payoh Interchange in careful consultation with Dementia Singapore.

Berth A1 to A4: Purple Five Stones
Service 139/139A
Service 143
Service 145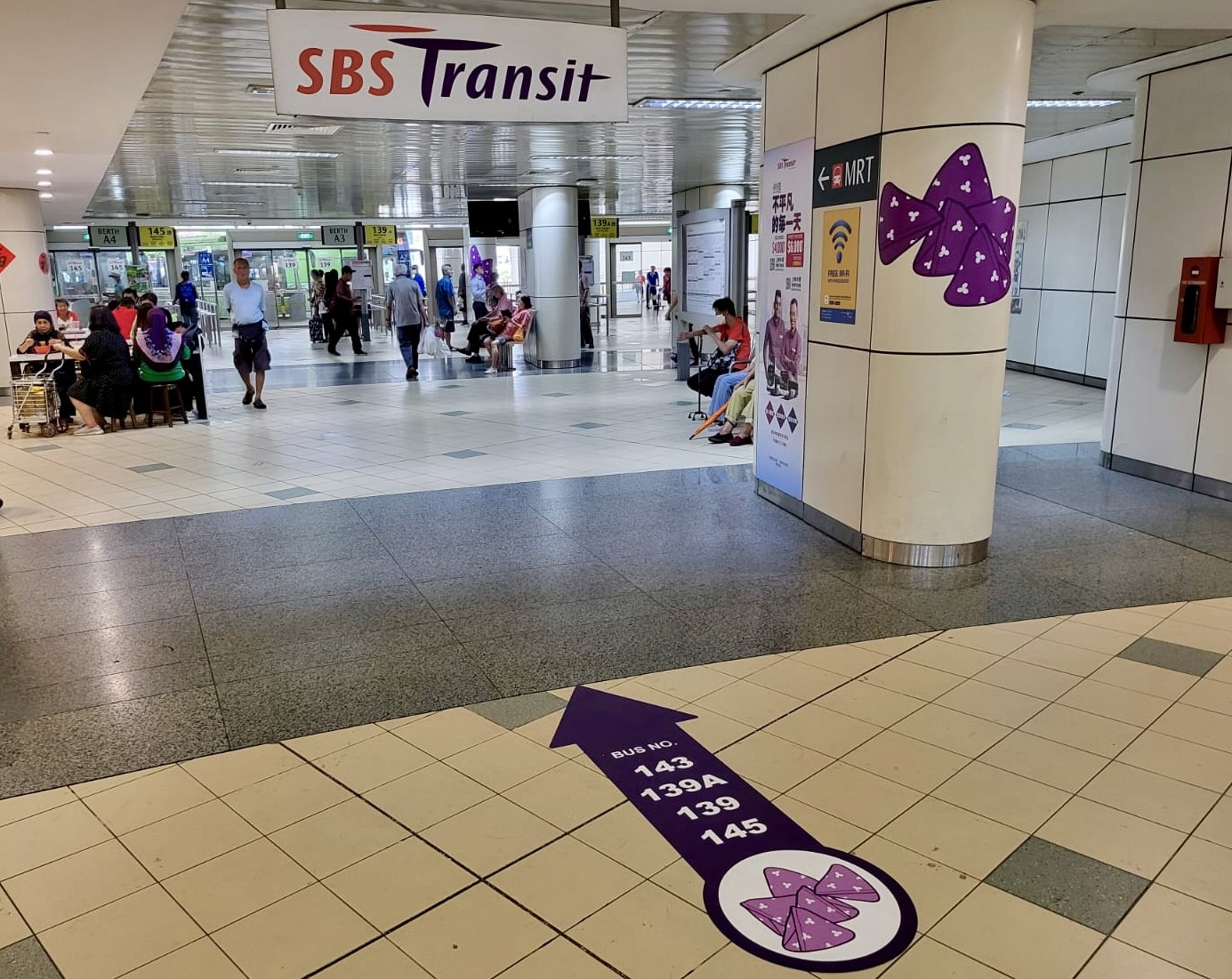 Five stones is a traditional game popular with children in the kampong days.
Berth A5 to A10: Orange Chaptek
Service 8
Service 31
Service 88
Service 90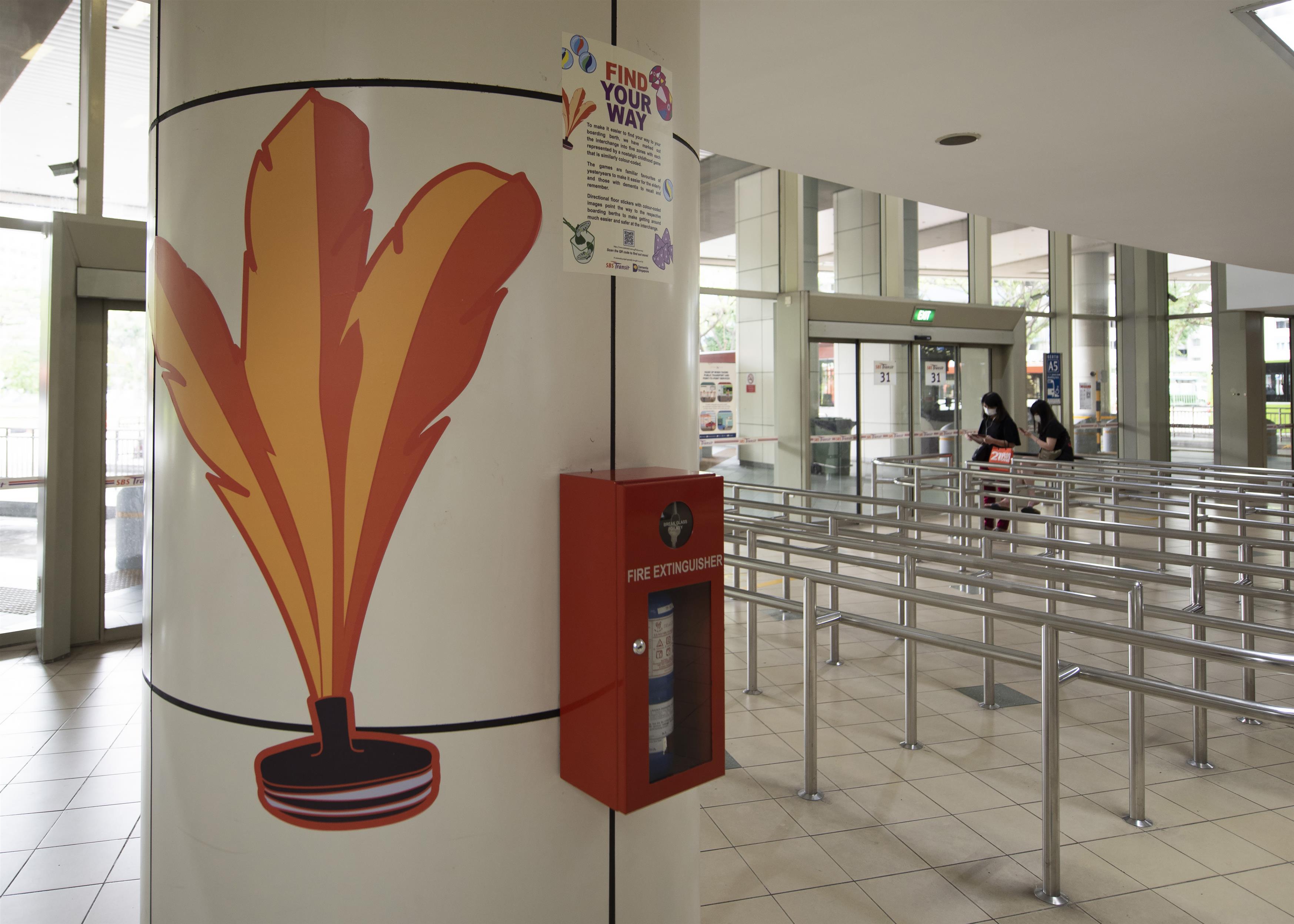 Chaptek is played by kicking the feathered shuttlecock to keep it in the air for as long as possible.
Berth A11 to A14: Pink Traditional Paper Ball
Service 26
Service 28
Service 155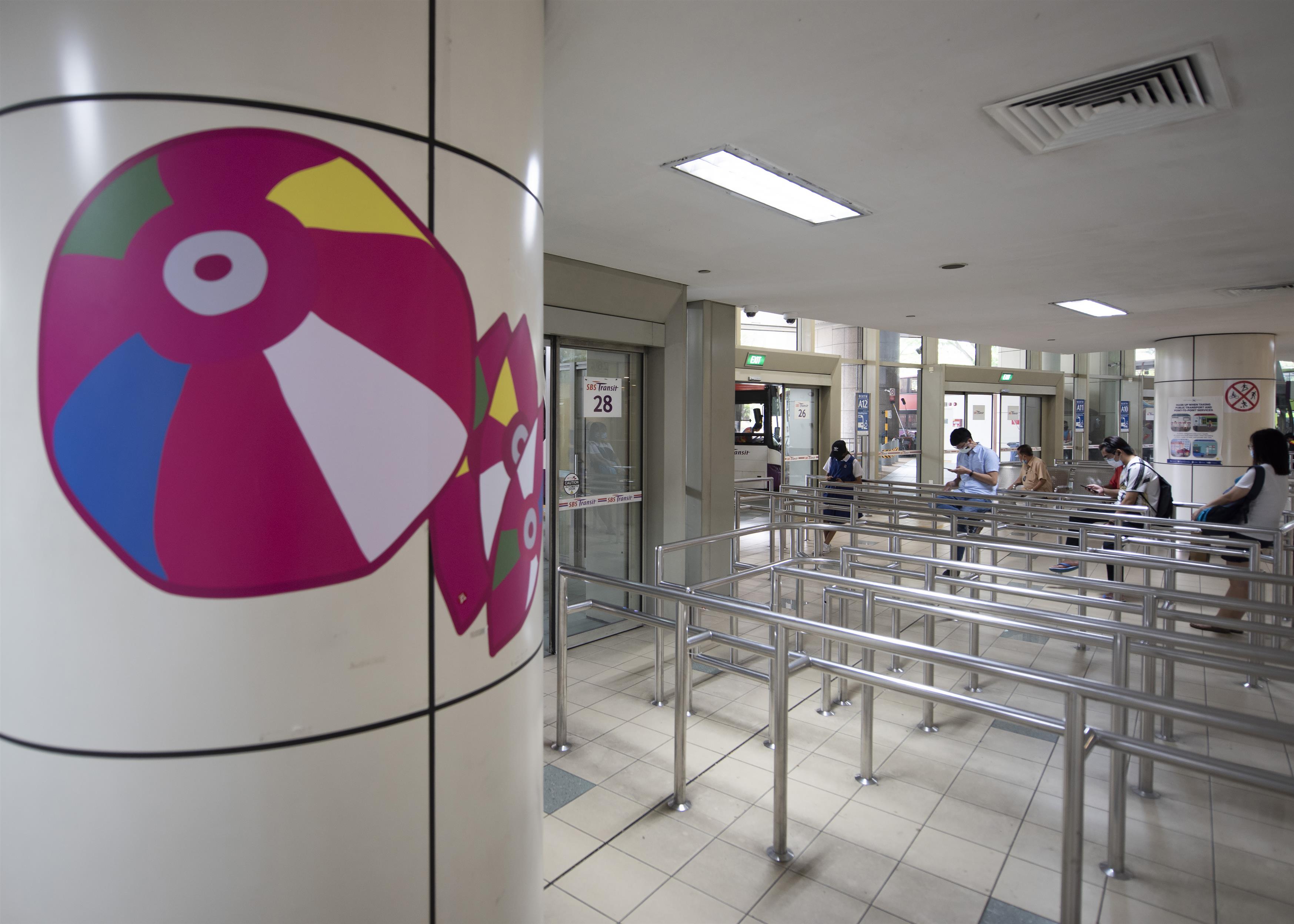 The traditional paper ball is light and easy to inflate, a fun game to pass time with friends.
Berth B1 and B2: Blue Marbles
Service 142
Service 231
Service 232
Service 235
Service 238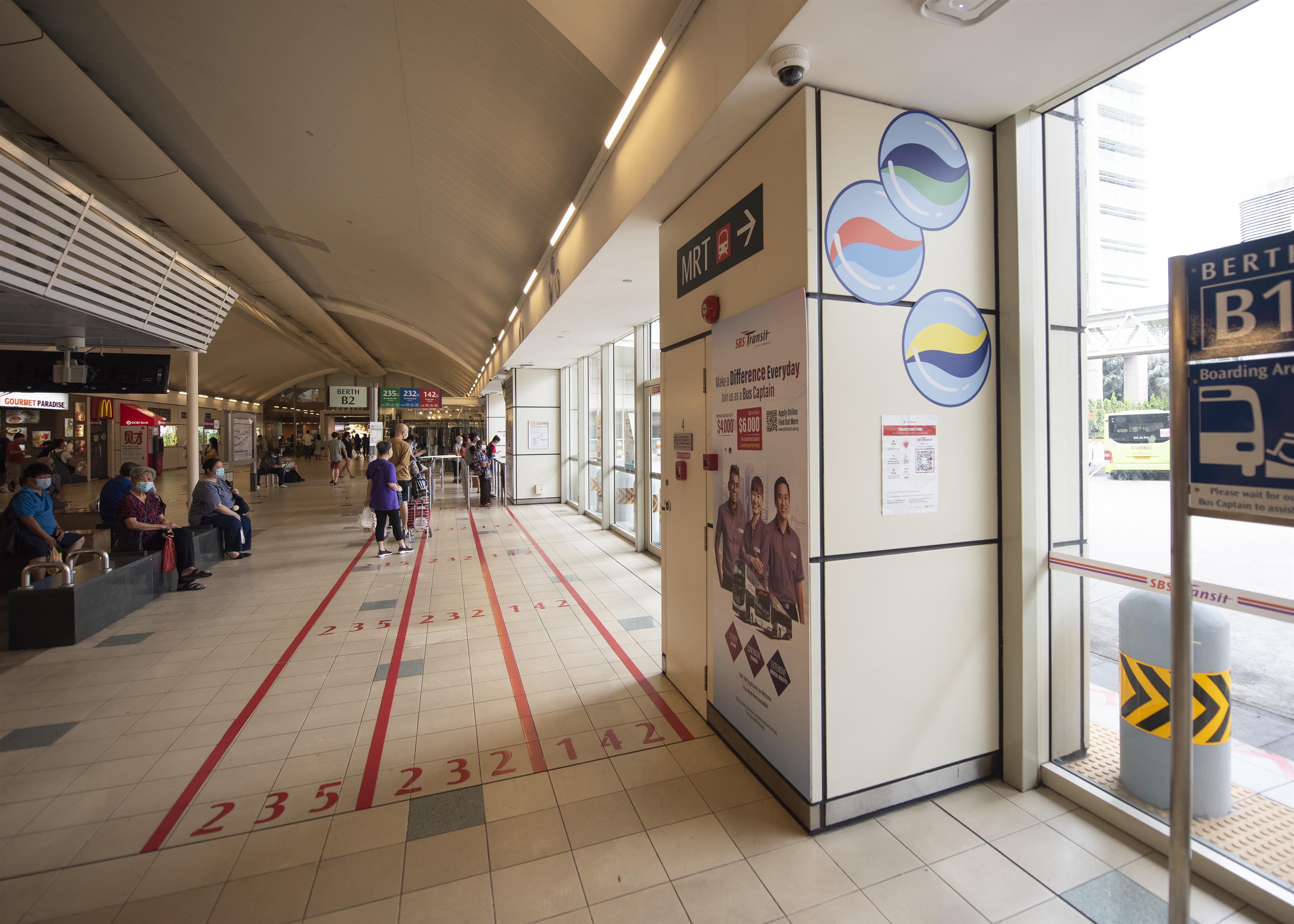 Another popular game in the olden days, it is played by throwing one's marble into a drawn circle on the ground to displace an opponent's marbles.
Berth B3 and B4: Green Fishnet
Service 73
Service 141
Service 157
Service 159
Service 163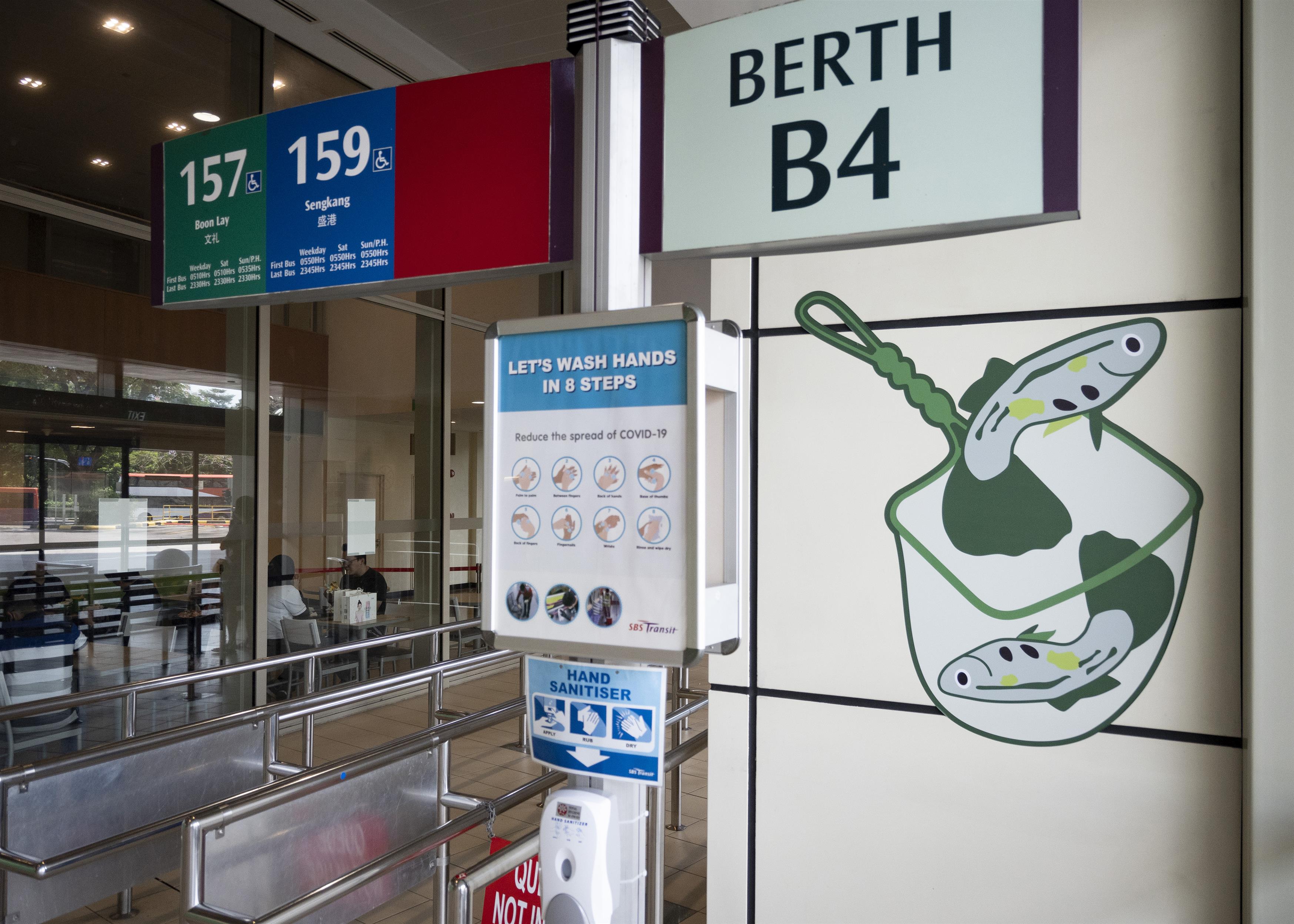 Known as longkang fishing, children will visit canals and streams to catch small fishes in the kampong days.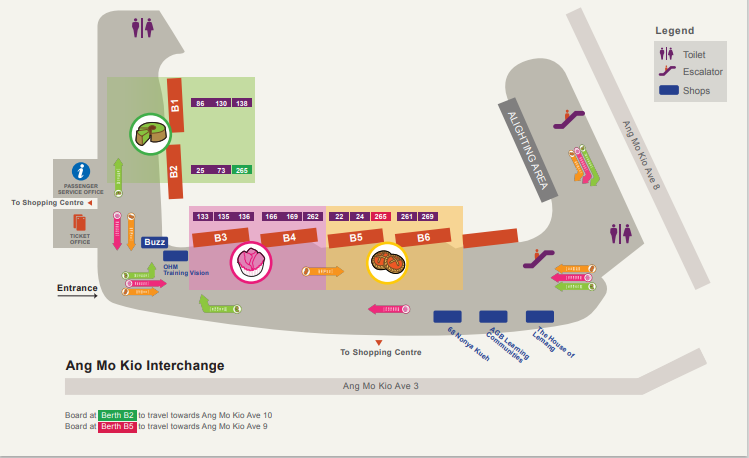 Traditional delights commonly found in many of the food centres in the mature estate were chosen for the murals at Ang Mo Kio Bus Interchange.

Berth 1 and 2: Pandan Cake
Service 25
Service 73
Service 86
Service 130
Service 138
Service 265 (East Loop)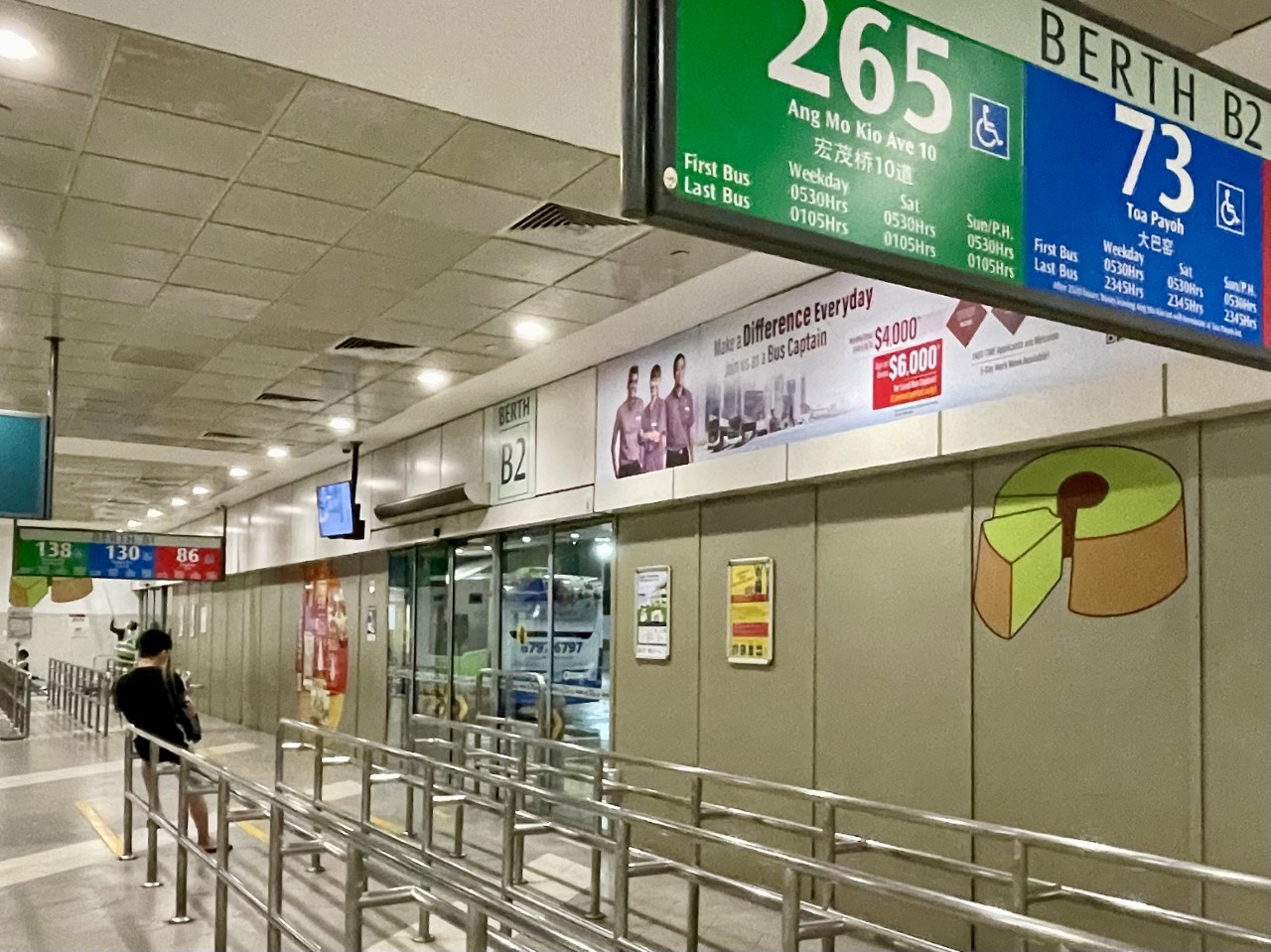 The pandan cake is also known as Singapore's national cake.
Berth 3 and 4: Huat Kueh
Service 133
Service 135
Service 136
Service 166
Service 169
Service 262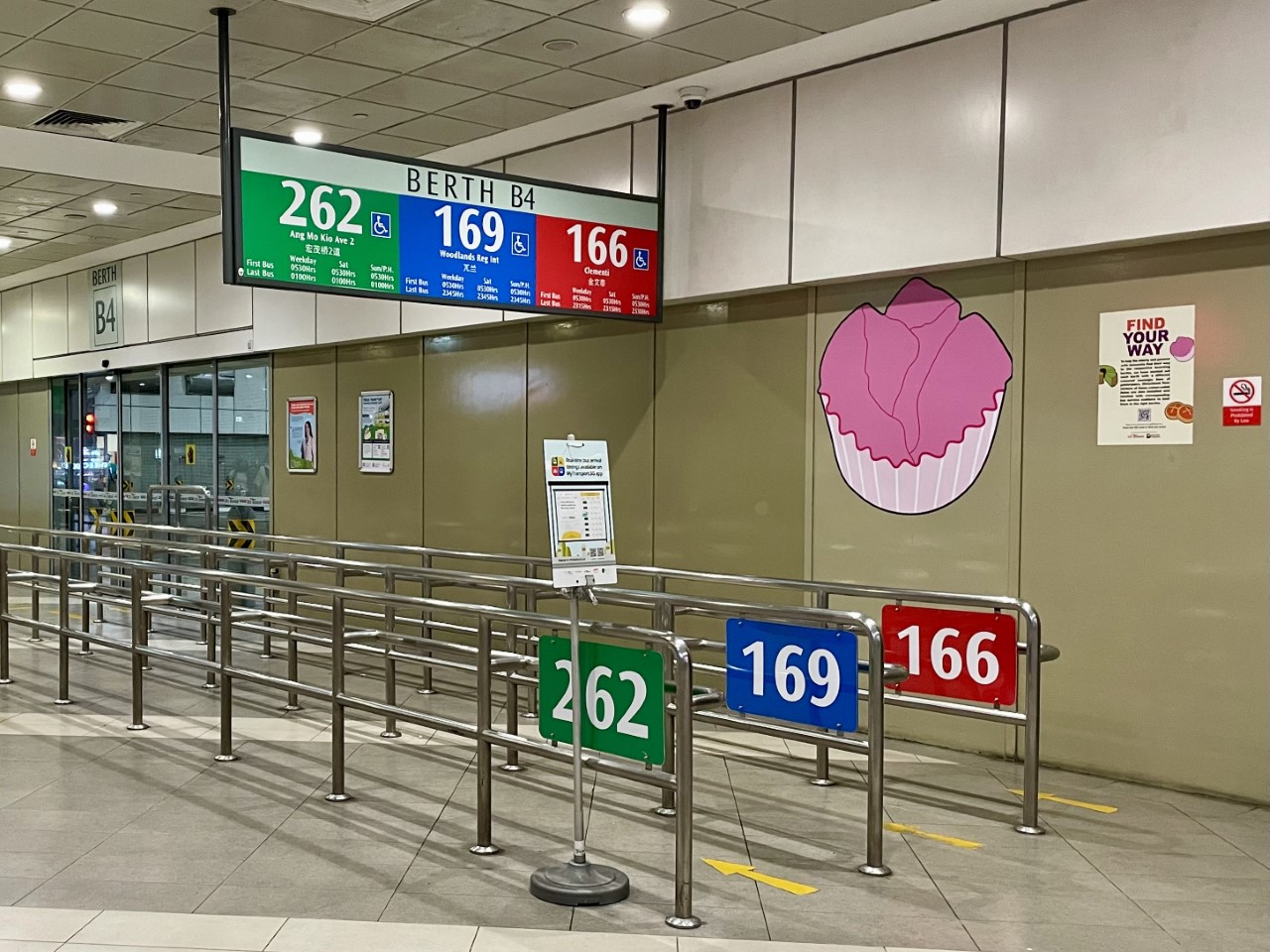 The huat kueh is a traditional steamed cake that symbolises prosperity.
Berth 5 and 6: Pineapple Tarts
Service 22
Service 24
Service 261
Service 265 (West Loop)
Service 269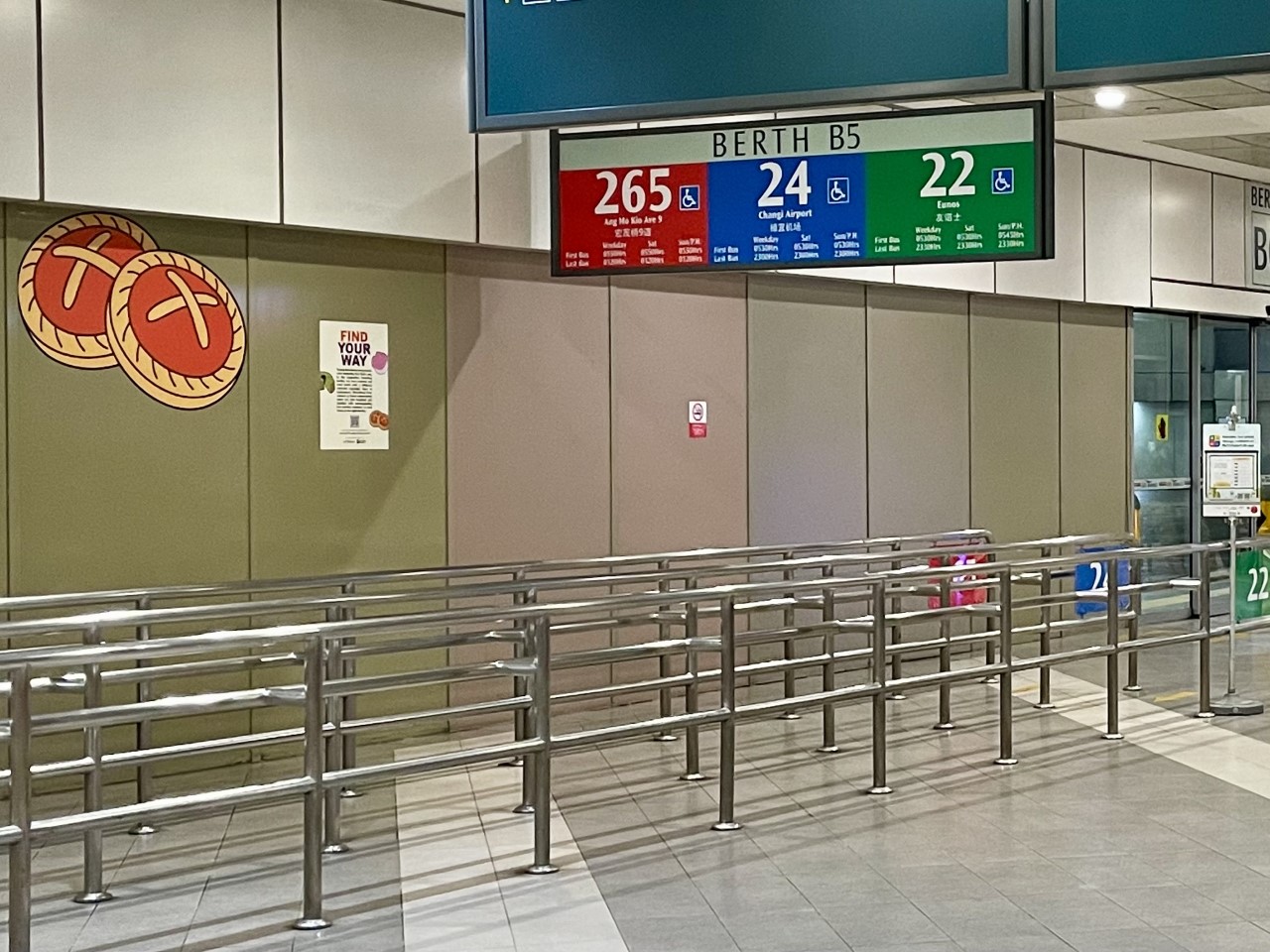 Symbolising good fortune and luck, the pineapple tart is served during festivities, especially the Lunar New Year.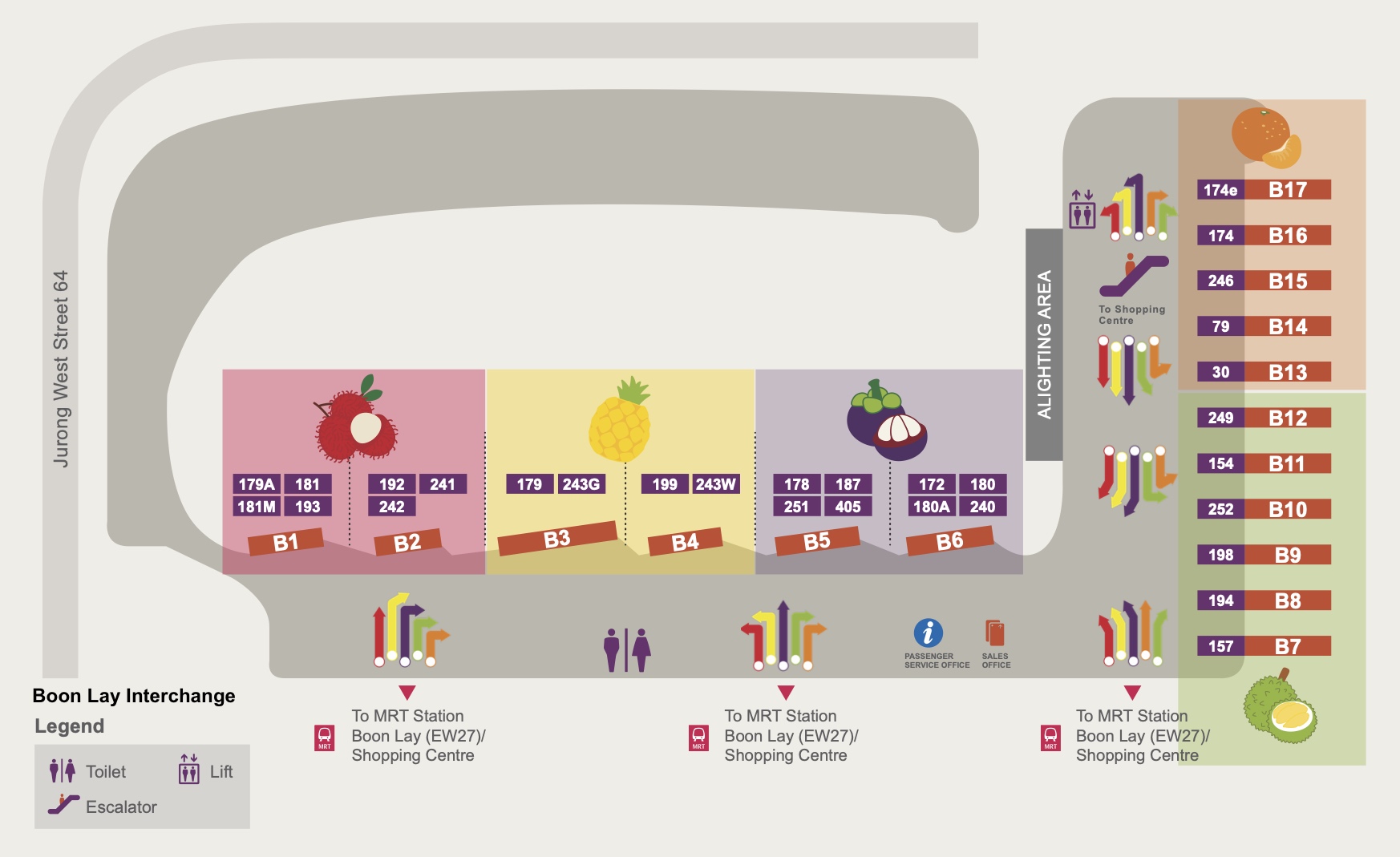 Tropical fruit murals at the Boon Lay Interchange pay homage to the area's rich cultural heritage of fruit plantations.
Berths B1 and B2: Rambutan
Service 179A
Service 181
Service 181M
Service 192
Service 193
Service 241
Service 242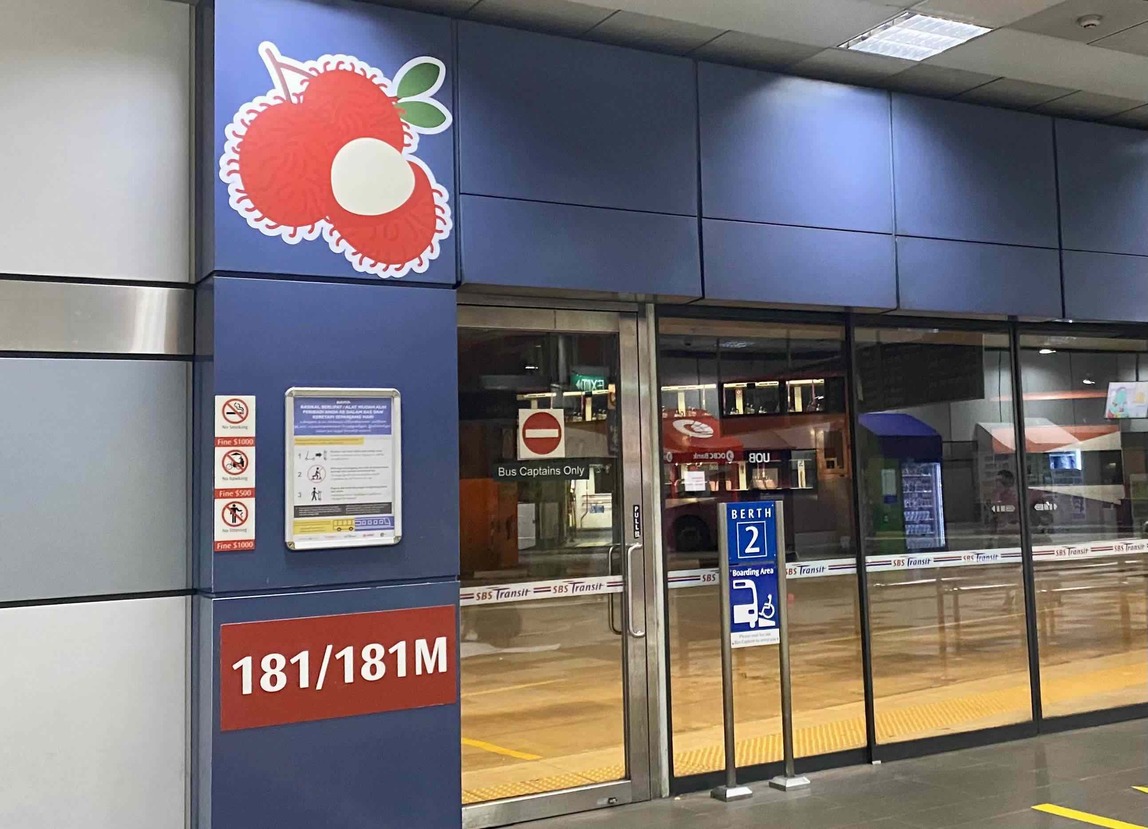 The rambutan fruit evokes memories of picking and savoring this delectable fruit with joy and wonder.
Berths B3 and B4: Pineapple
Service 179
Service 199
Service 243G
Service 243W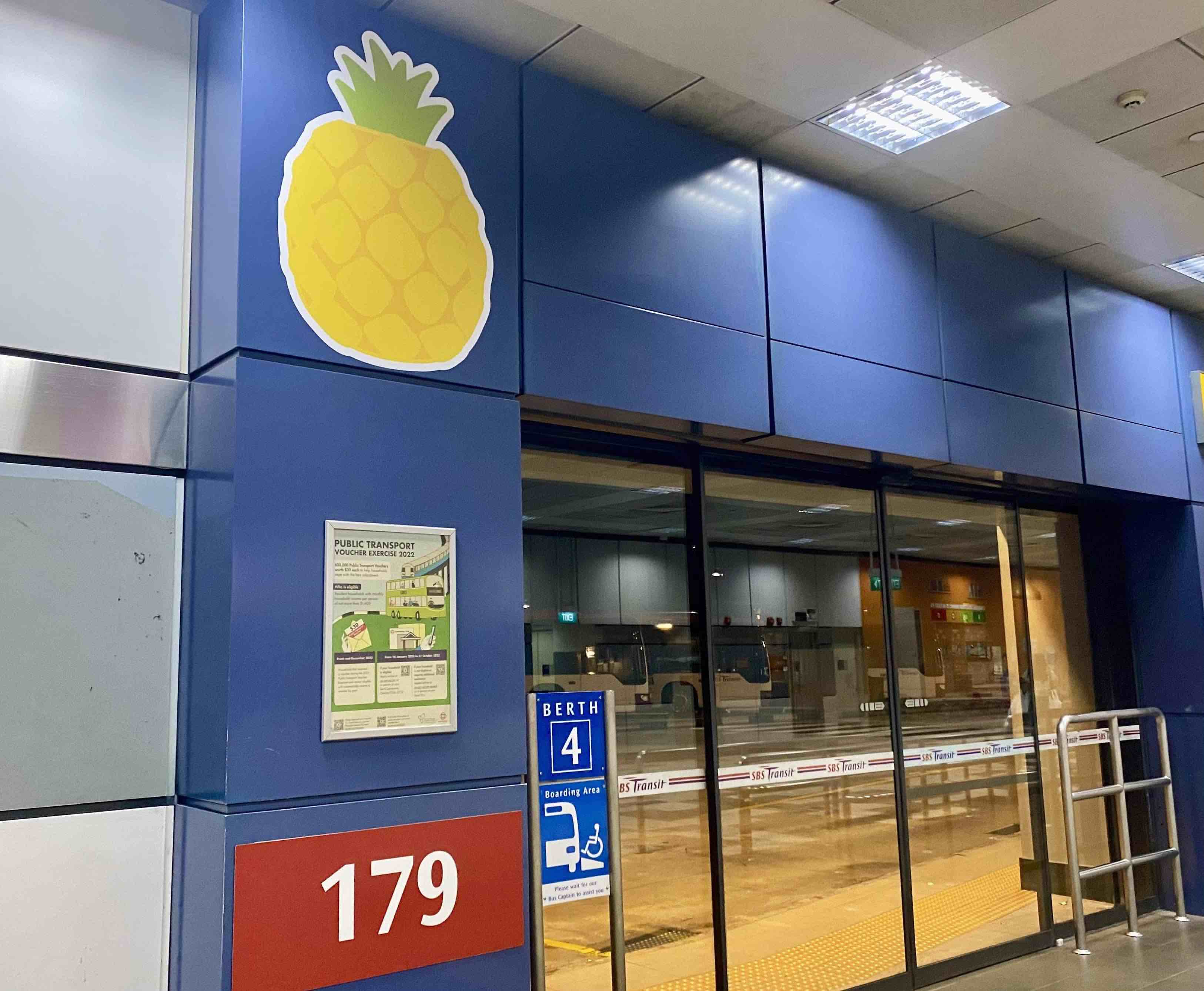 The pineapple is embraced by the Chinese as a symbol of luck and wealth, and has a sweet and tart taste.
Berths B5 and B6: Mangosteen
Service 172
Service 178
Service 180
Service 180A
Service 187
Service 240
Service 251
Service 405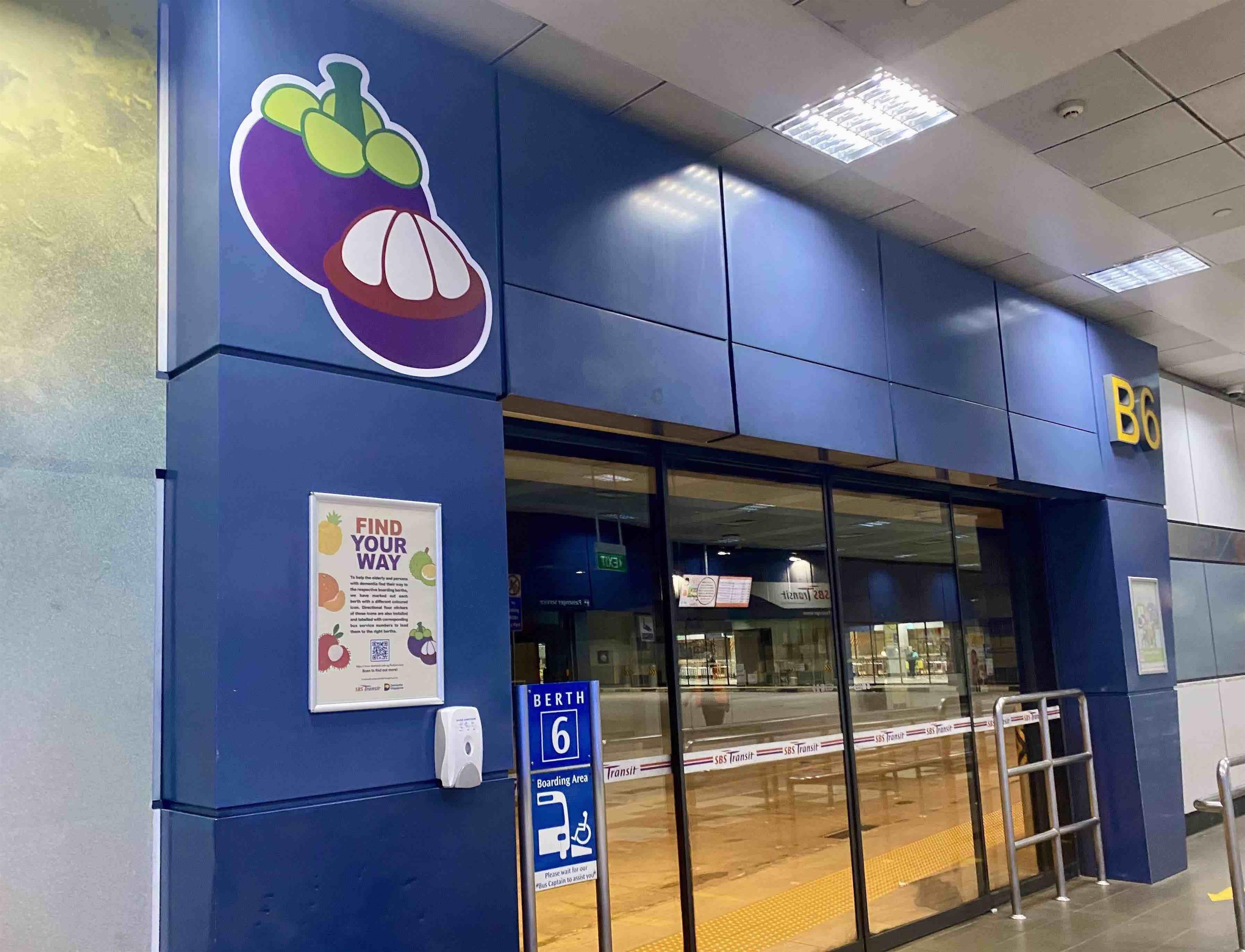 Often hailed as the "Queen of Fruits", the Chinese believe that the mangosteen is "cooling" for the body.
Berths B7 to B12: Durian
Service 154
Service 157
Service 194
Service 198
Service 249
Service 252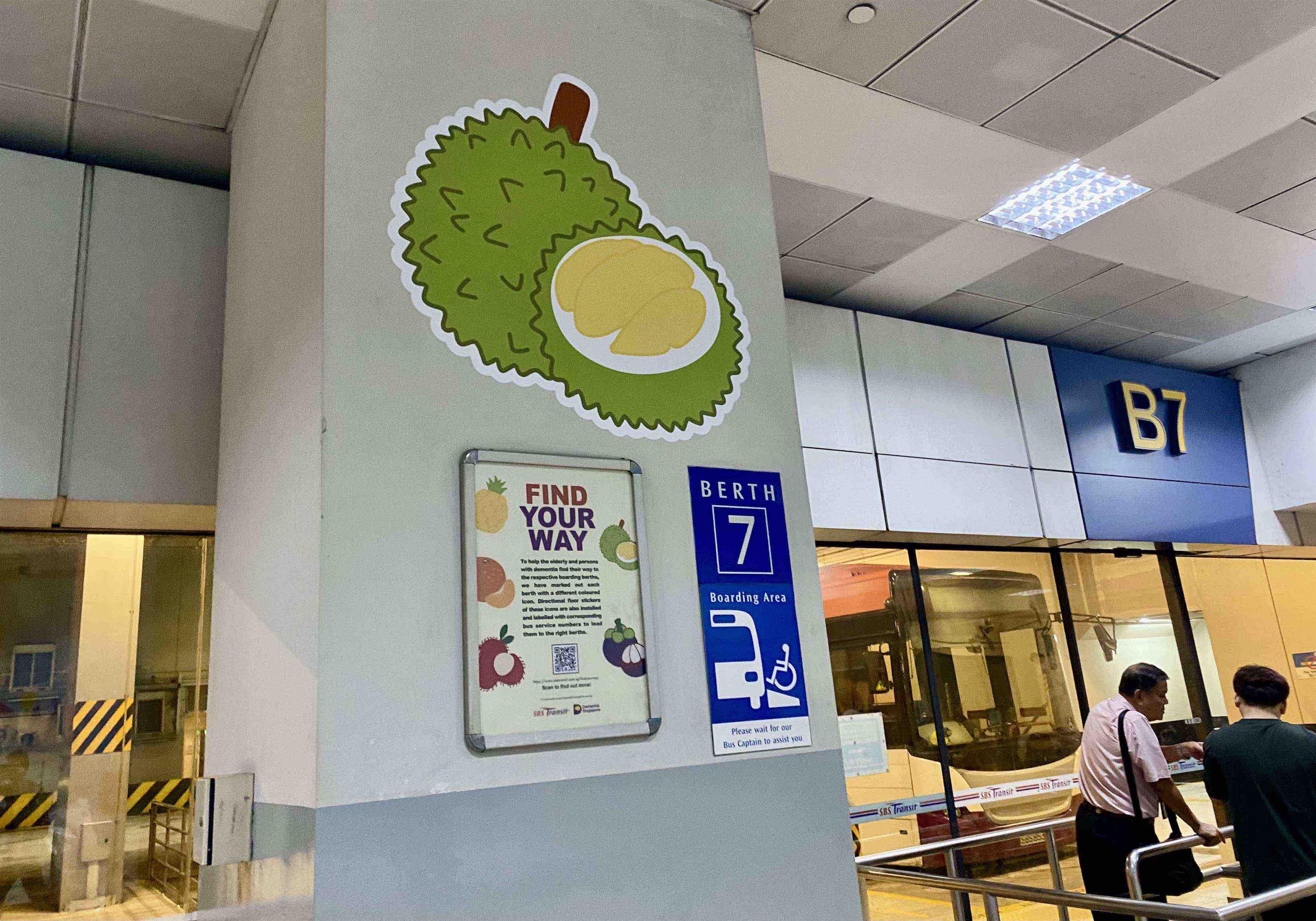 Recognised as the "King of Fruits" in Southeast Asia, the durian fruit is an acquired taste – you either love it or you don't!.
Berths B13 to B17: Orange
Service 30
Service 79
Service 174
Service 174e
Service 246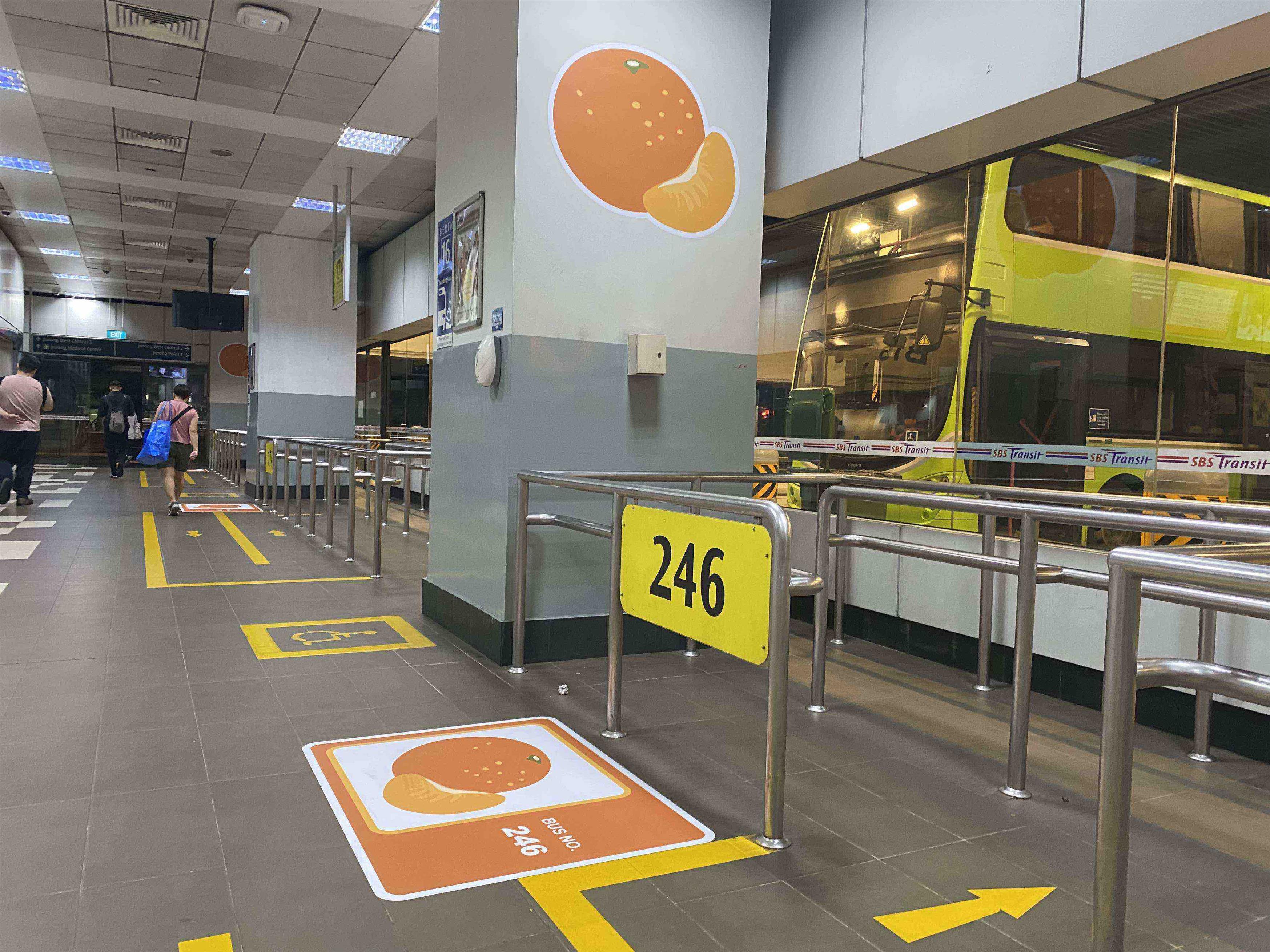 Reminiscent of our childhood, where oranges were eaten as a source of vitamin C.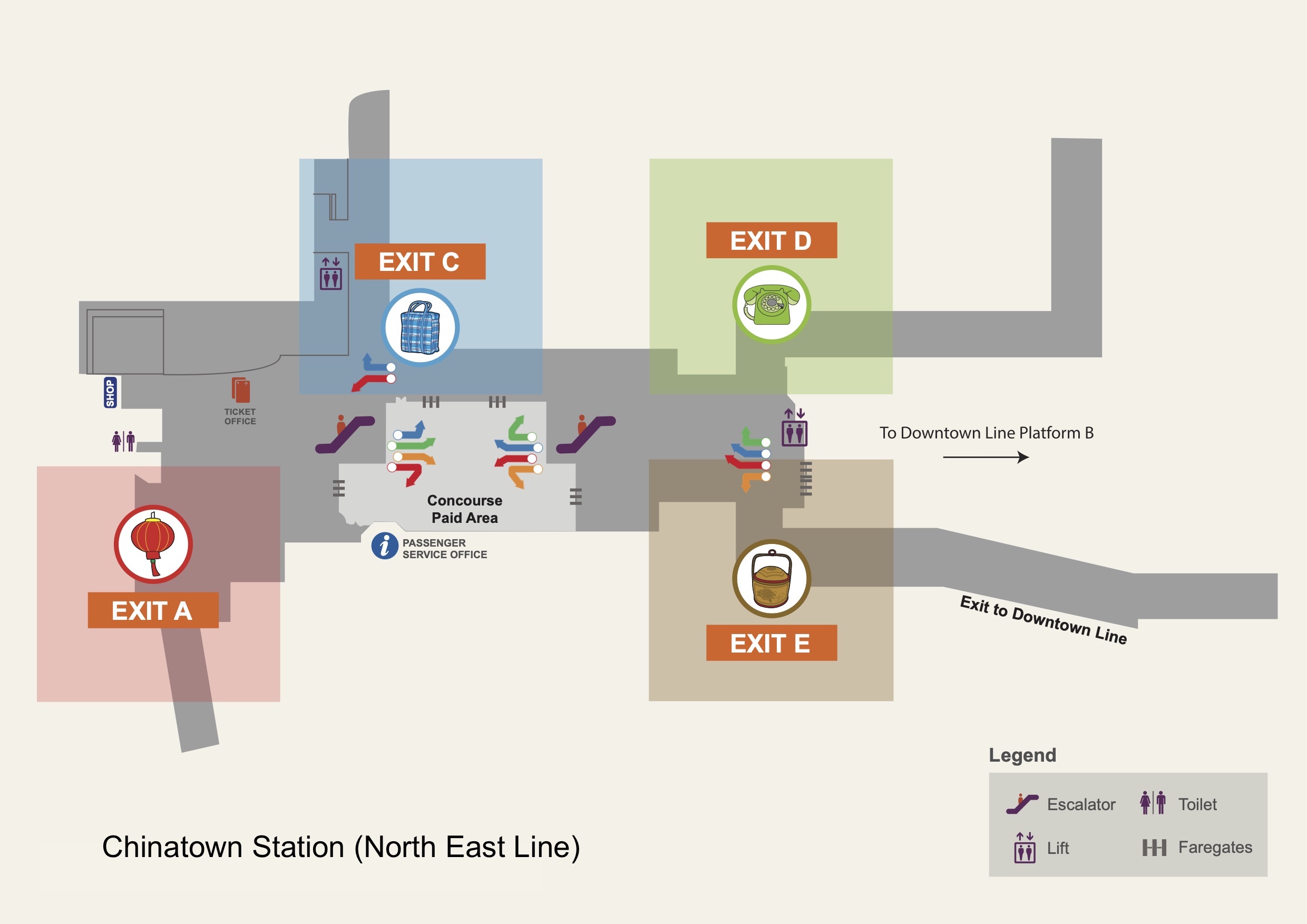 Everyday items of yesteryears associated with the landmarks of each exit were chosen for the murals at Chinatown MRT Station.
Exit A: Red Lantern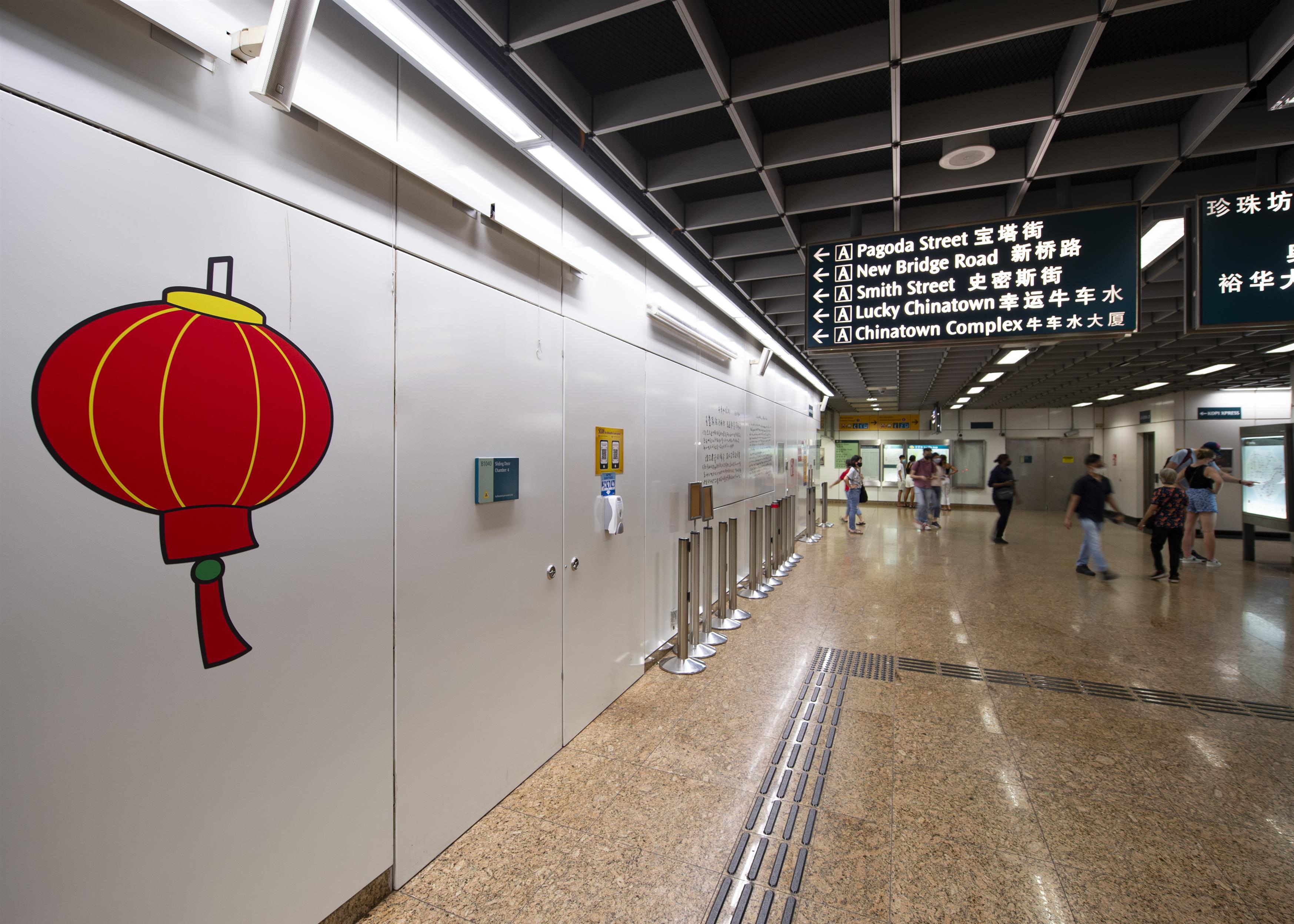 The red lantern reminds the elderly of traditional shophouses at Pagoda Street decorated with red lanterns.
Exit C: Blue Plastic Carrier Bag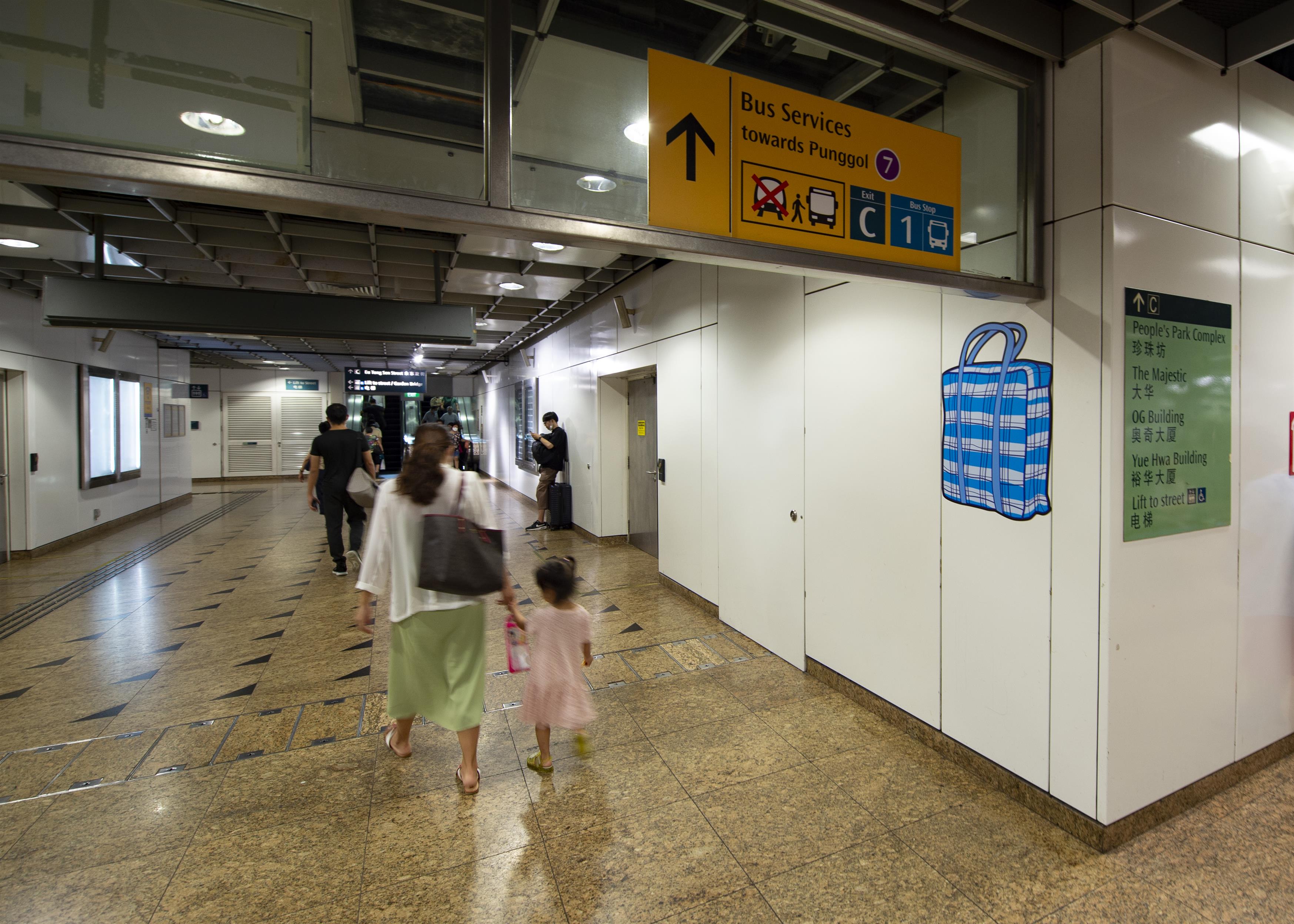 The blue plastic carrier bag is associated with shopping at People's Park Complex and OG Building.
Exit D: Green Rotary Telephone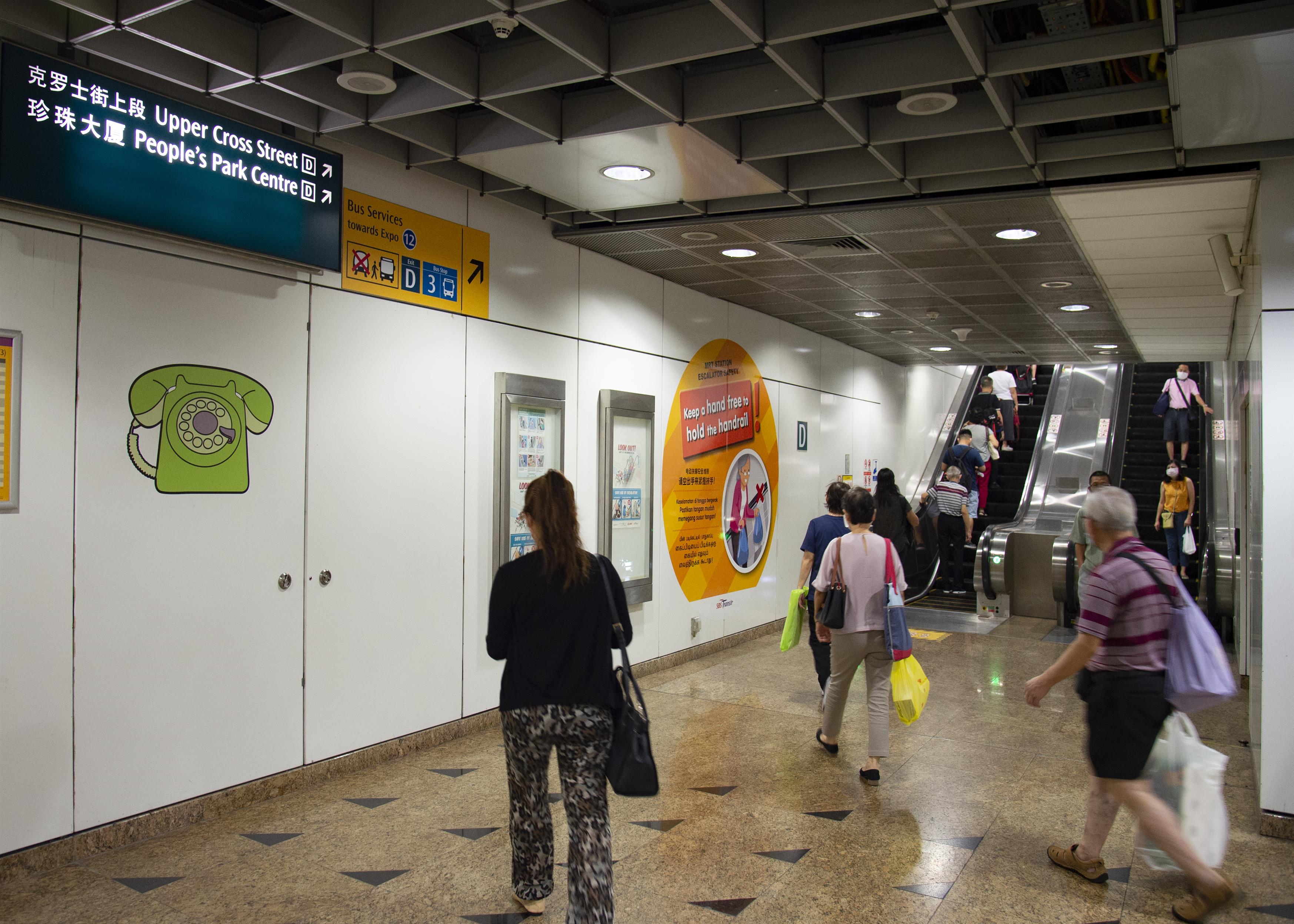 A rotary telephone represents the shops at People's Park Centre in the olden days.
Exit E: Brown Cylindrical Bamboo Basket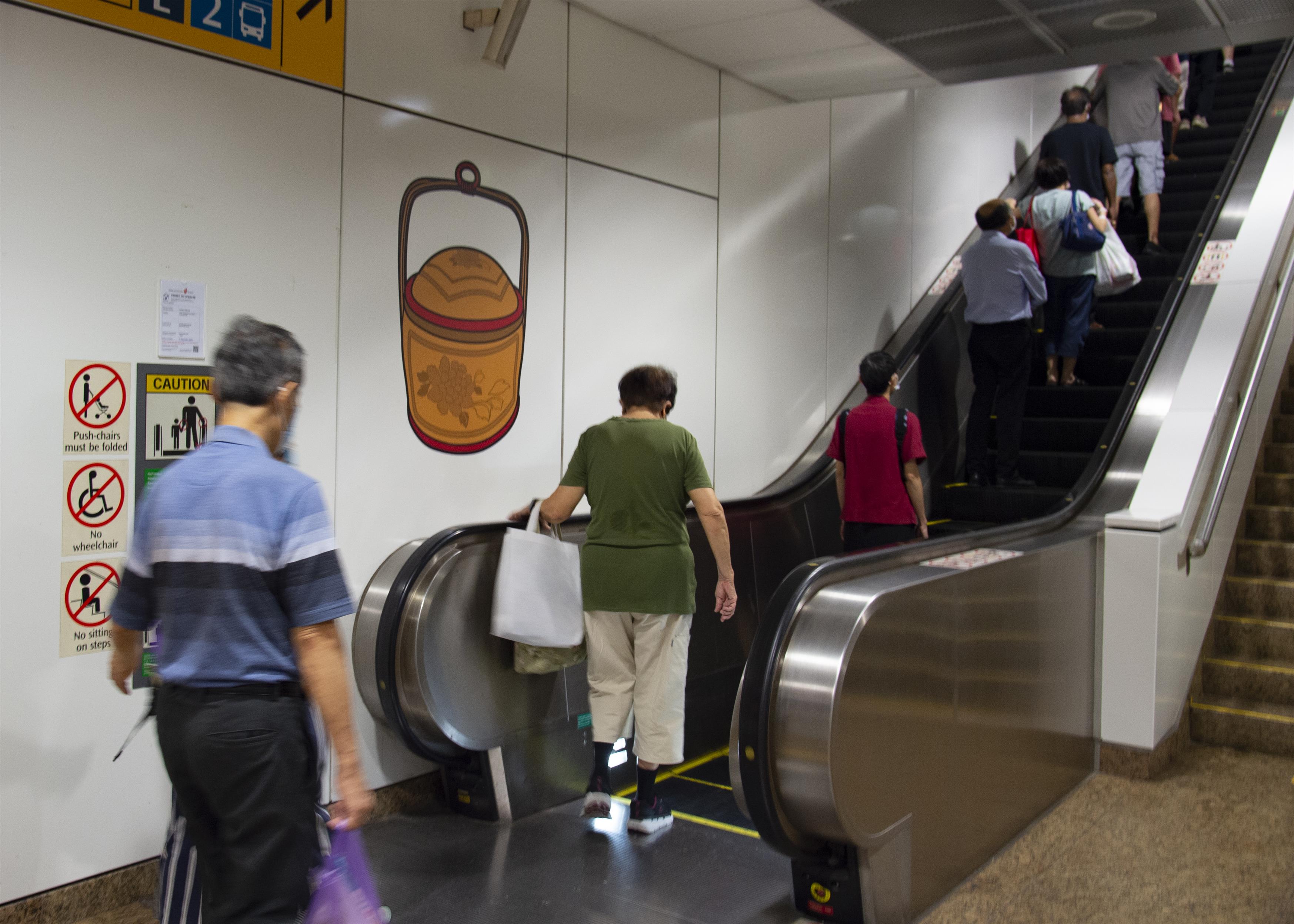 The brown cylindrical bamboo basket, customary to Chinese weddings, reminds elderly of the shops selling bridal biscuits.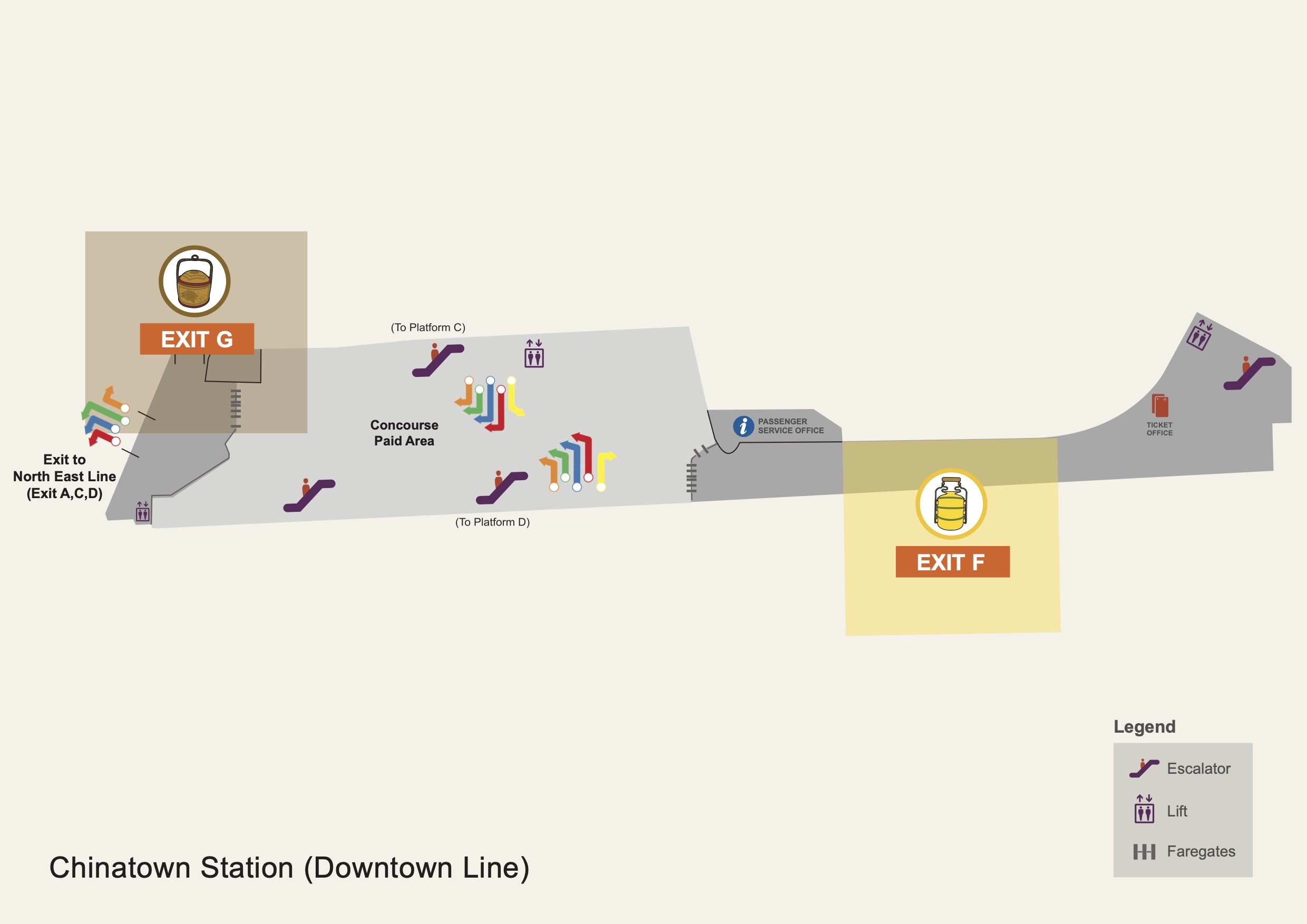 Exit F: Yellow Enamelled Tiffin Carrier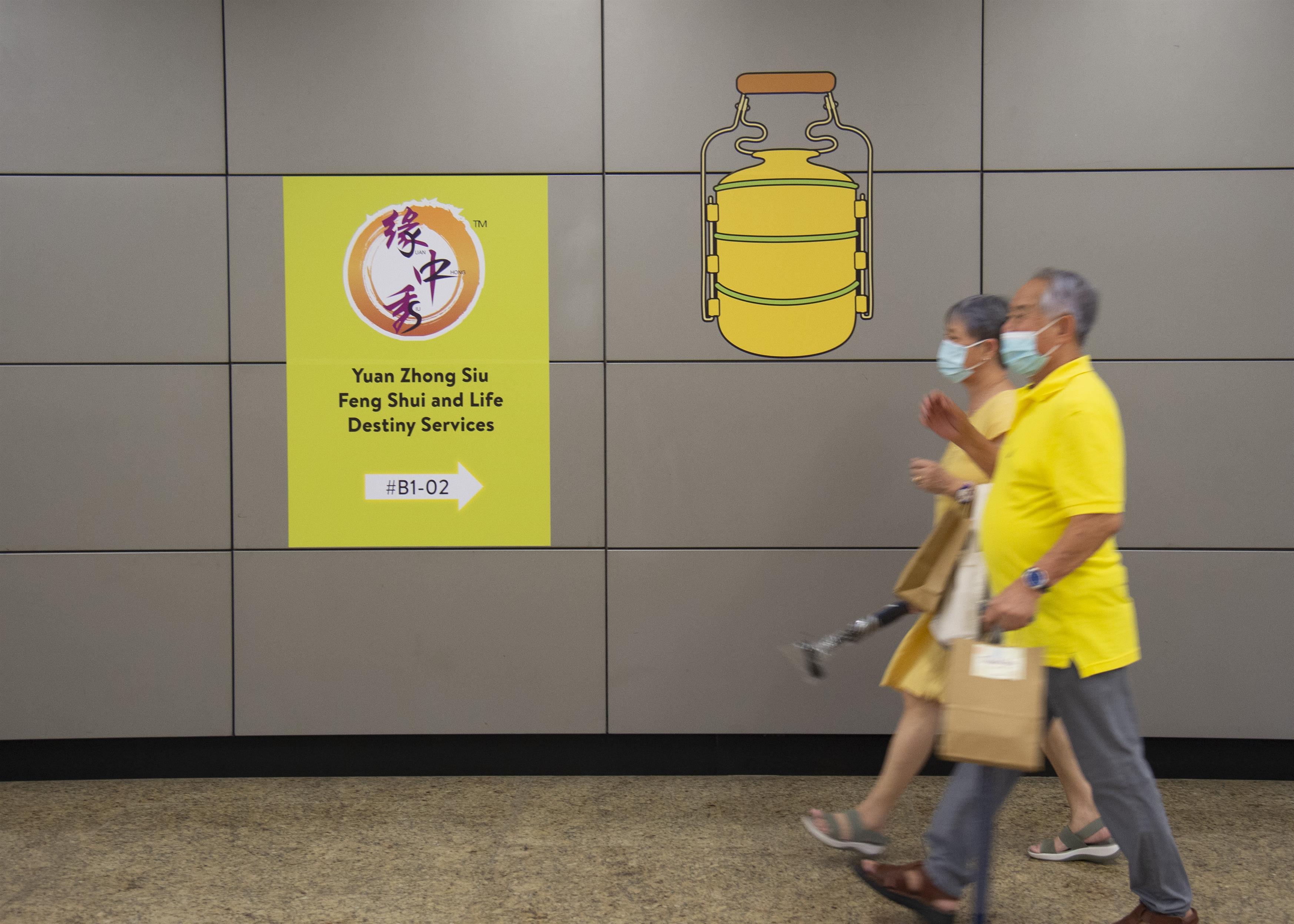 The yellow enamelled tiffin carrier, also known as 'Tingkat', was chosen in view of the hawker stalls in the vicinity.
Exit G: Brown Cylindrical Bamboo Basket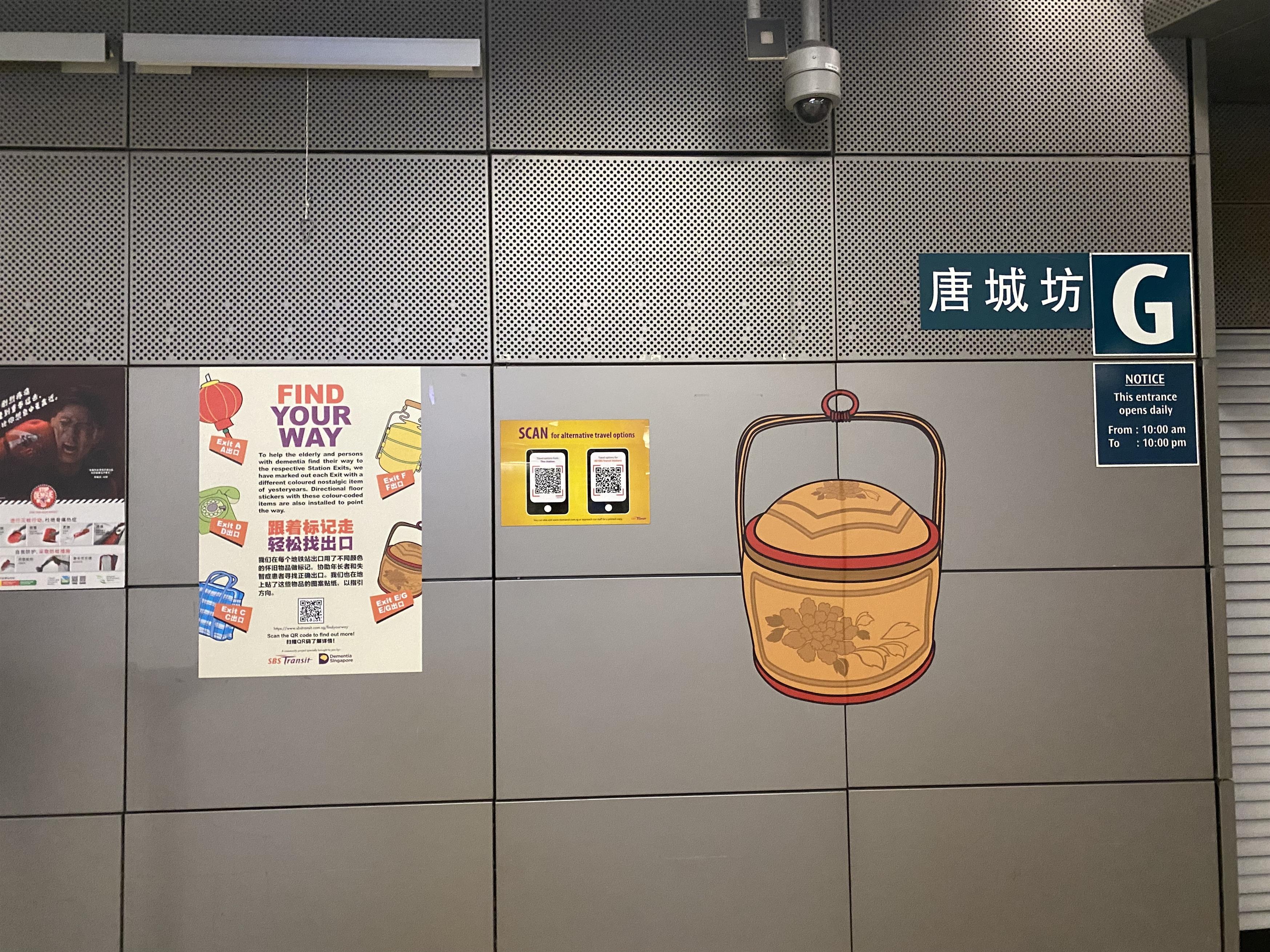 The brown cylindrical bamboo basket, customary to Chinese weddings, reminds the elderly of the shops selling bridal biscuits.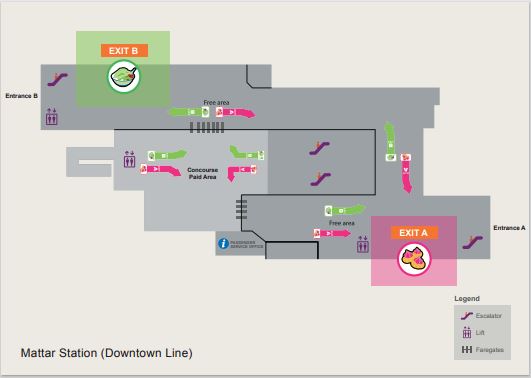 At Mattar MRT Station, prominent landmarks of each exit were represented by murals featuring old-school treats that capture the spirit of the area.
Exit A: Gem Biscuits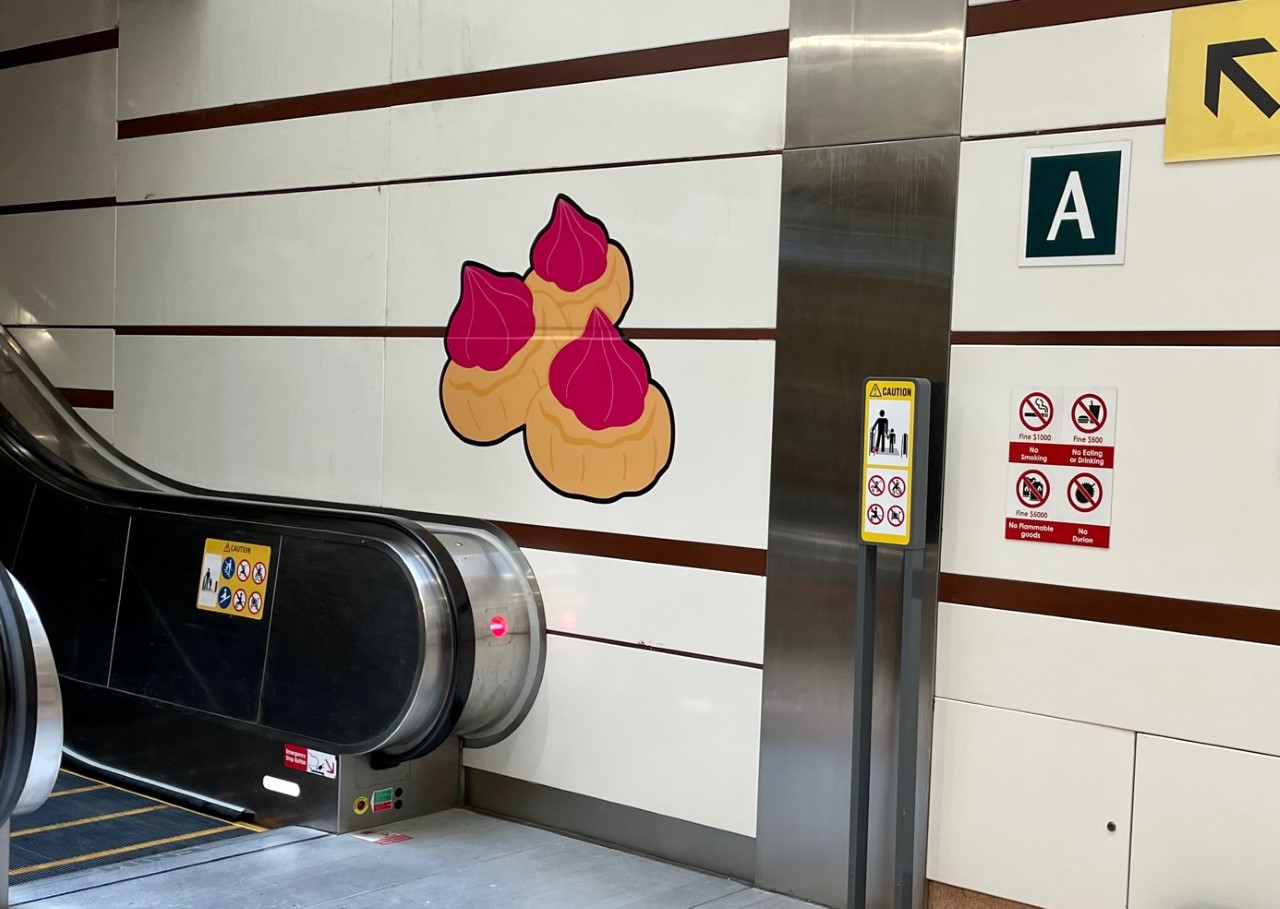 A beloved snack that many of us often enjoyed during our childhood was chosen in view of the nearby schools.
Exit B: Chendol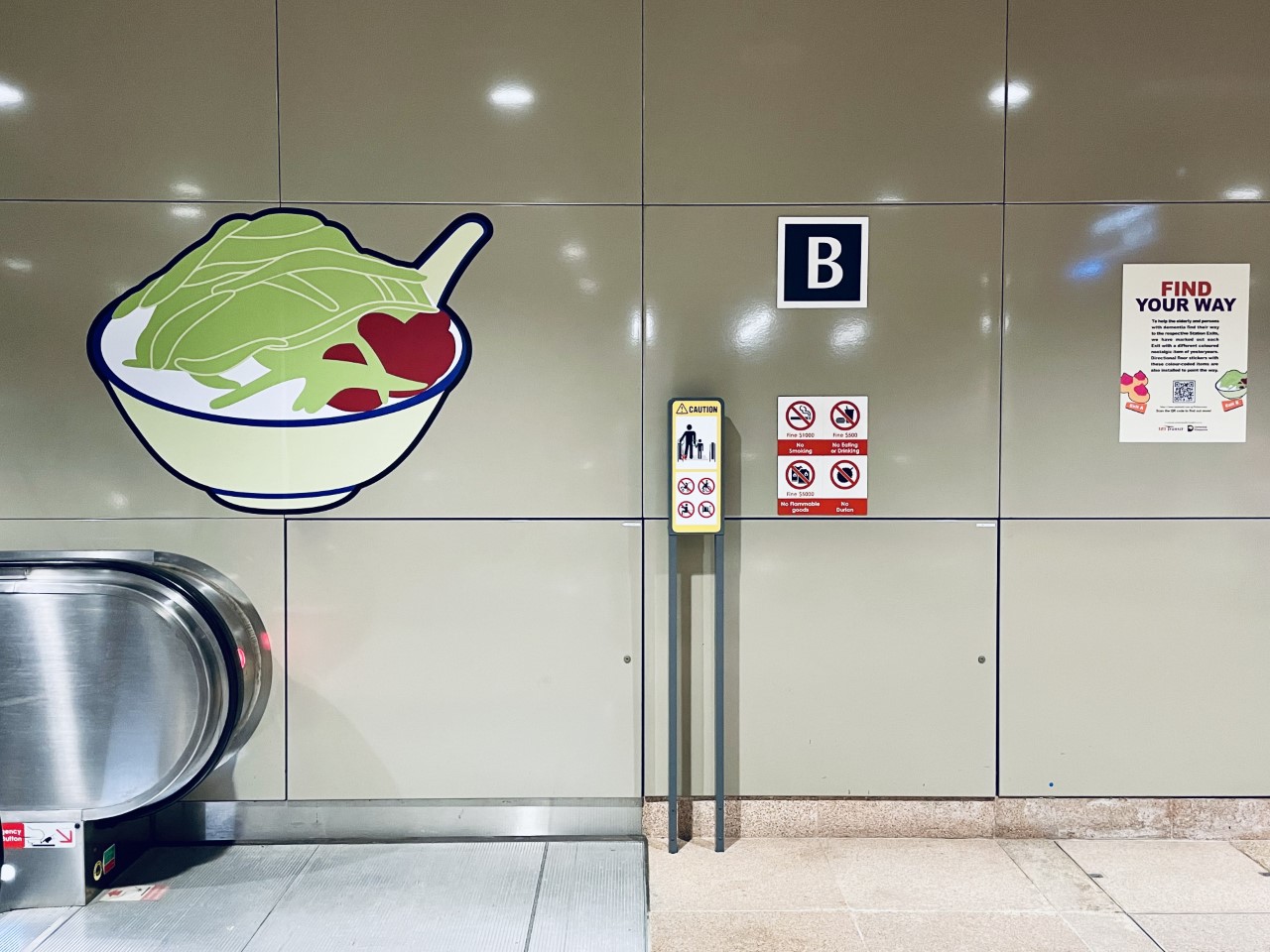 The popular Asian dessert, found in most hawker centres, reminds the elderly of the nearby Circuit Road Hawker Centre.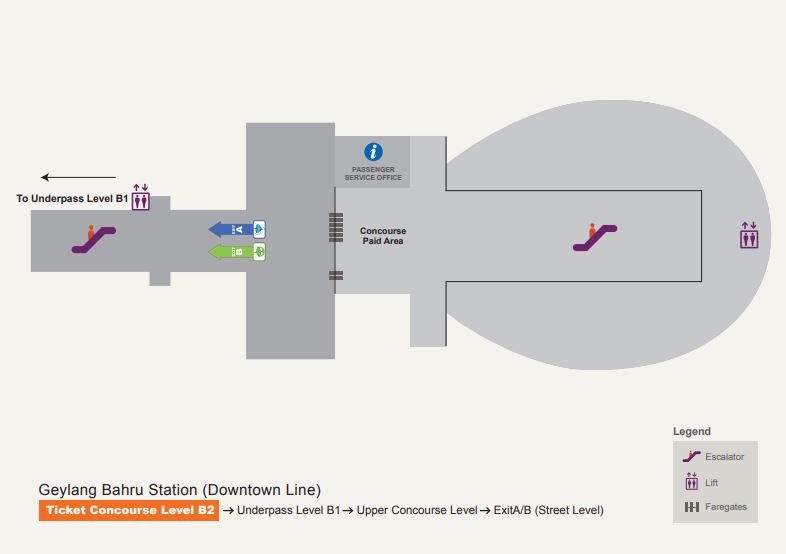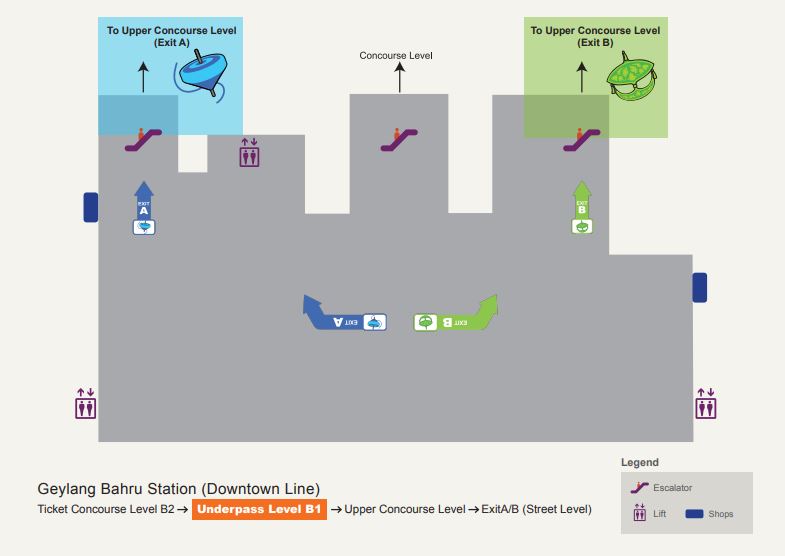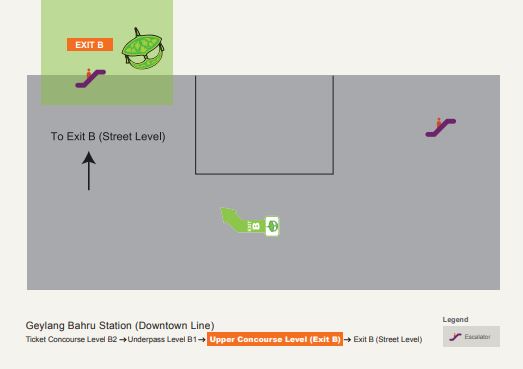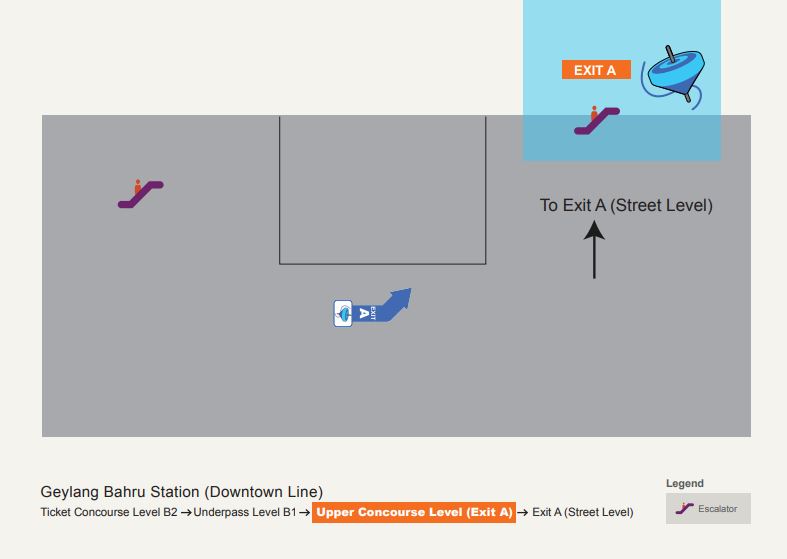 For the murals at Geylang Bahru MRT Station, we drew inspiration from traditional childhood games that were popular with the Malay community as the area was once home to the Malay Village (now known as Wisma Geylang Serai).
Exit A: Blue Gasing (Spinning Top)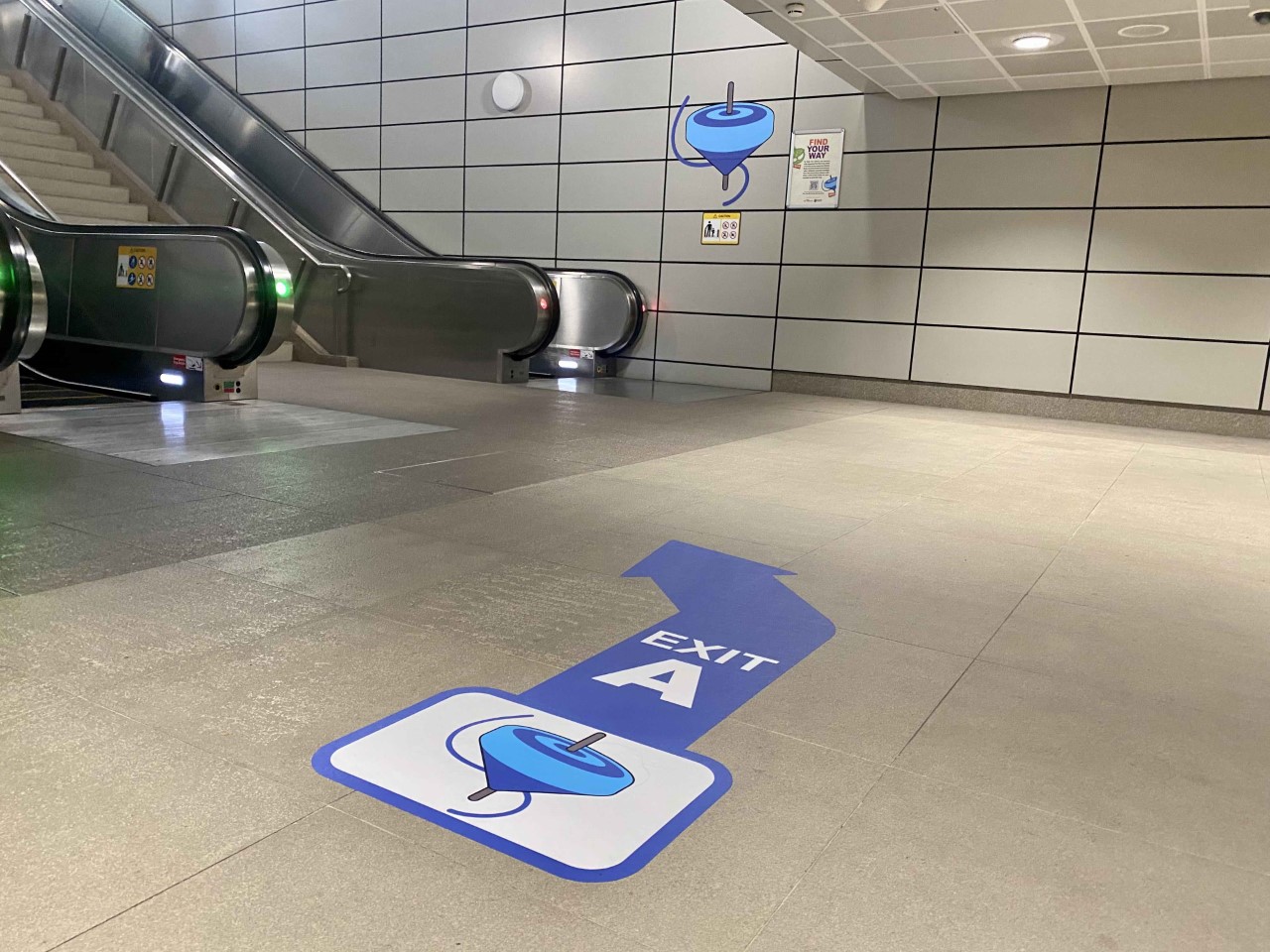 Gasing was a popular game back in the kampong (village) days. Players spin a top and the winner is the one whose top spins the longest within a circle. Interestingly, farmers believed that playing gasing would bring them a bountiful harvest.
Exit B: Green Wau Bulan (Moon Kite)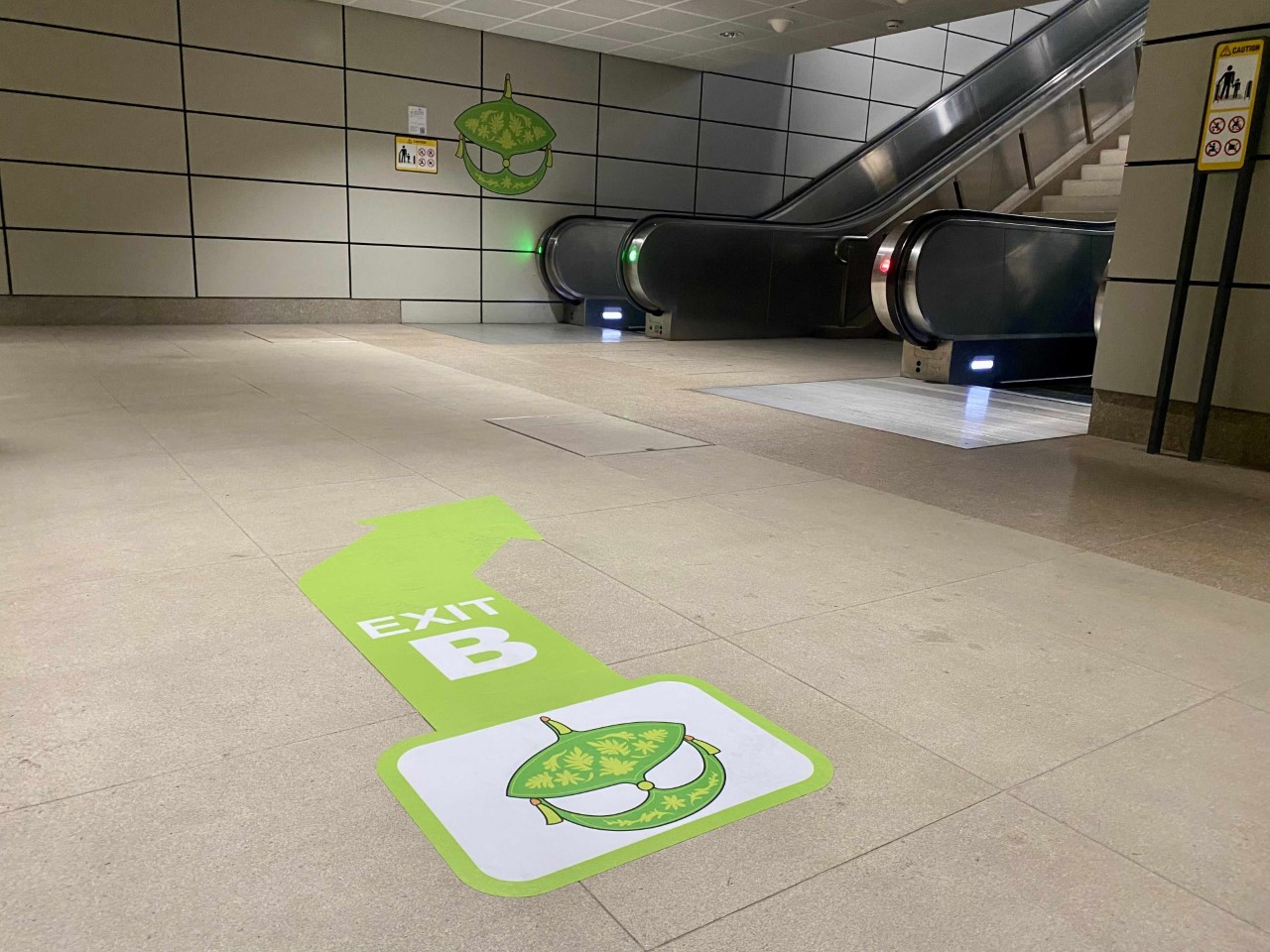 Farmers used to fly the Wau Bulan, a beautifully and intricately crafted traditional kite, over their paddy fields to keep birds away.
The Boon Keng Station murals, featuring household items of yesteryears, pay homage to the old shops and markets of the area.
Exit A: Pink Table Fan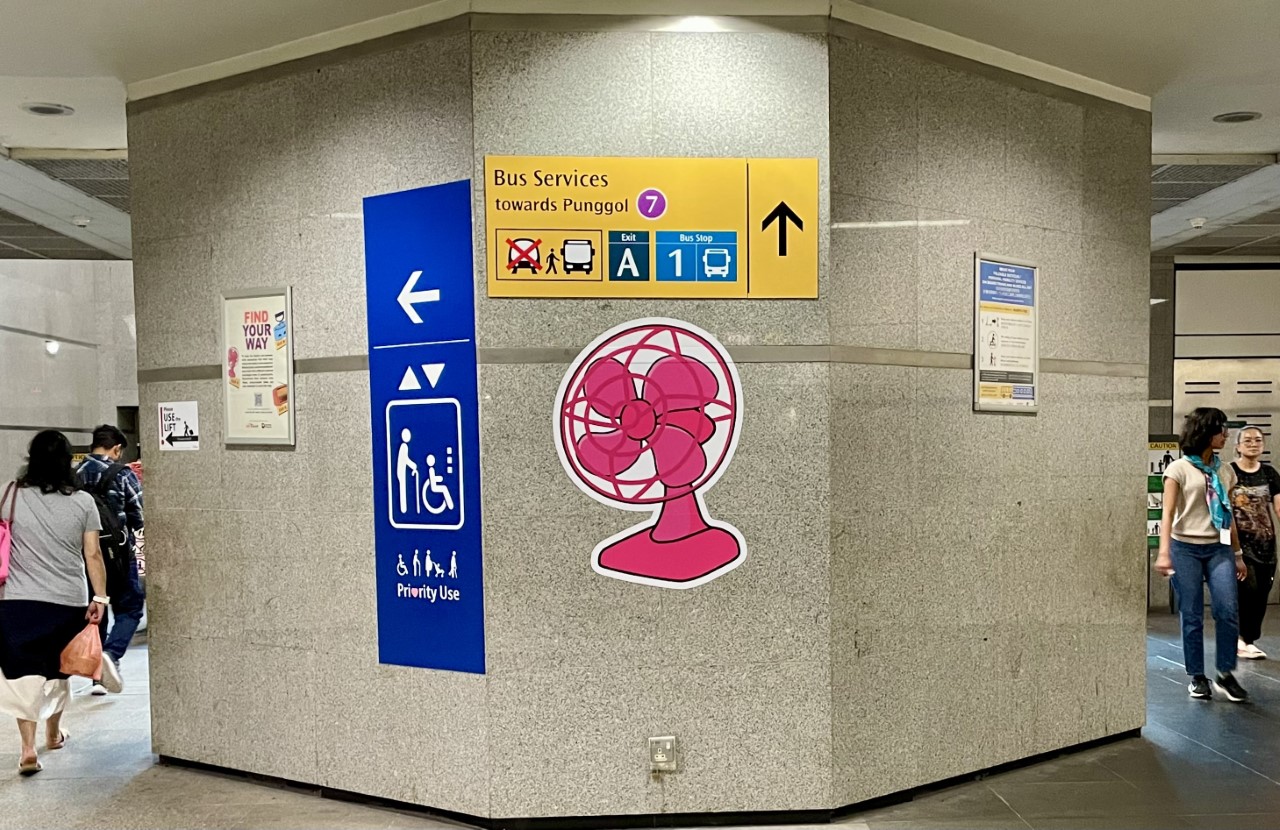 In the good old days, the table fan was a must-have household item to combat the sweltering heat.
Exit B: Blue Charcoal Iron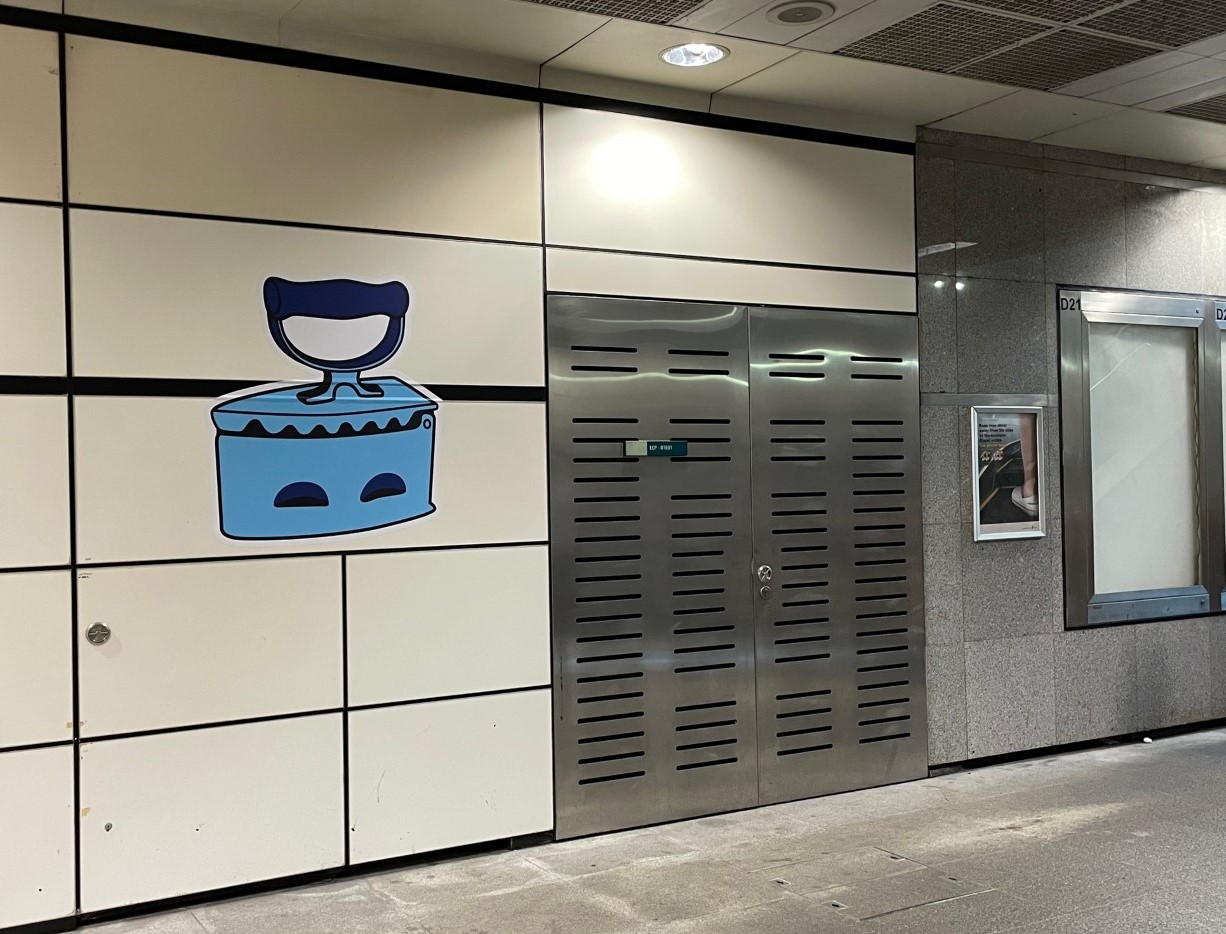 The charcoal iron derives its name from the use of hot charcoal inside the iron to remove wrinkles and creases from clothes.
Exit C: Orange Vintage Radio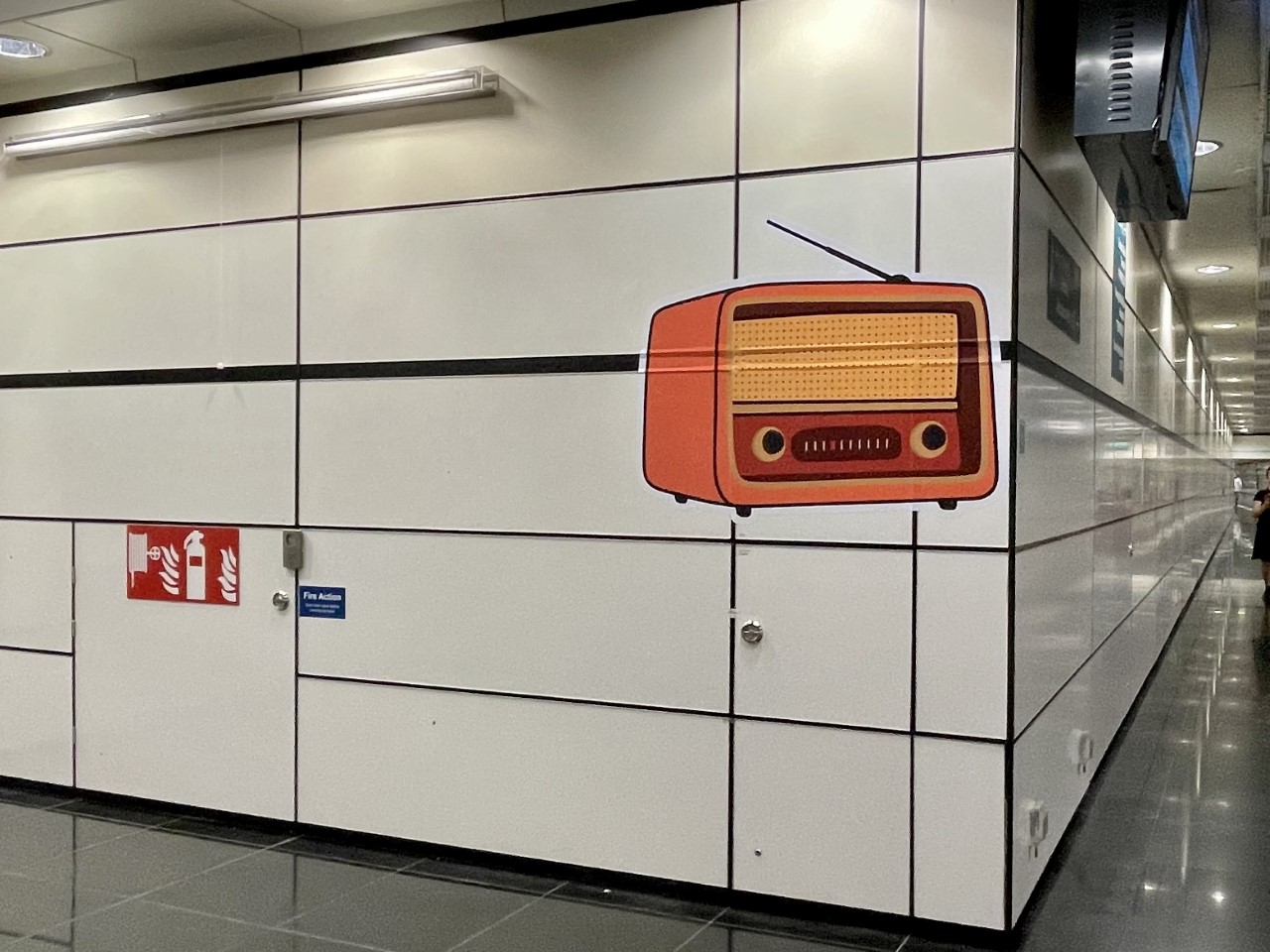 The vintage radio allows our seniors to relive their childhood when listening to the radio was a common pastime.
Coming Soon.