Route amendment for Service 39
Route amendment for Service 39
Service 39 will be amended to ply Pasir Ris Industrial Drive 1, Punggol Central and Punggol Way from Sunday, 24 October 2021. This will enhance commuter connectivity between Pasir Ris, Punggol and Yishun. Commuters travelling between Pasir Ris and Yishun can continue to take the amended Service 39. Alternatively, they can take Services 3, 88, 89 or 109 to connect to Services 858 or 969 at the Tampines Expressway (TPE) bus stops at Punggol Flyover.

Service 39 currently operates between Tampines Concourse Bus Interchange and Yishun Bus Interchange as a bi-directional service. With the route amendment, it will serve eight pairs of new bus stops along Punggol Central and Punggol Way (see Table 1).
Table 1: New Calling Bus Stops for amended Service 39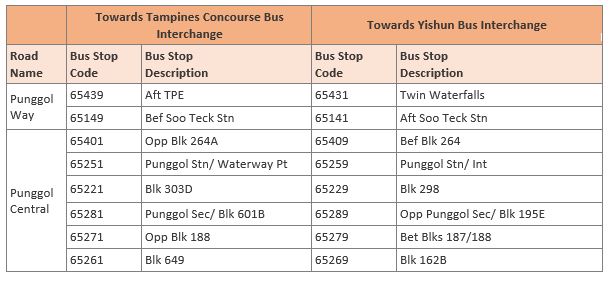 With the amendment, Service 39 will, however, skip two pairs of bus stops that it currently serves along TPE at Punggol Flyover and Pasir Ris Drive 12. Commuters can refer to Table 2 for alternative travel options to access the skipped bus stops.
Table 2: Skipped Bus Stops for amended Service 39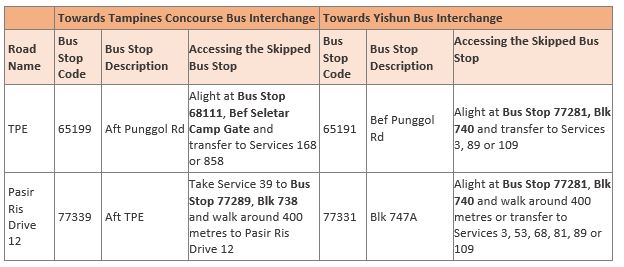 Please refer to the attached poster for more information.