Route amendment for Service 46
Route amendment for Service 46
The route of Service 46 will be extended to terminate at Pasir Ris Bus Interchange instead of Tampines Bus Interchange from Sunday, 30 October 2022. 
With the extension, Service 46 will ply between Upper East Coast Bus Terminal and Pasir Ris Bus Interchange to enhance the connectivity for commuters in the Tampines North area. Service 46 will ply Tampines Avenue 6, Tampines North Drive 2, Tampines Avenue 12 and Pasir Ris Drive 8 on the extended route and call at 16 additional bus stops: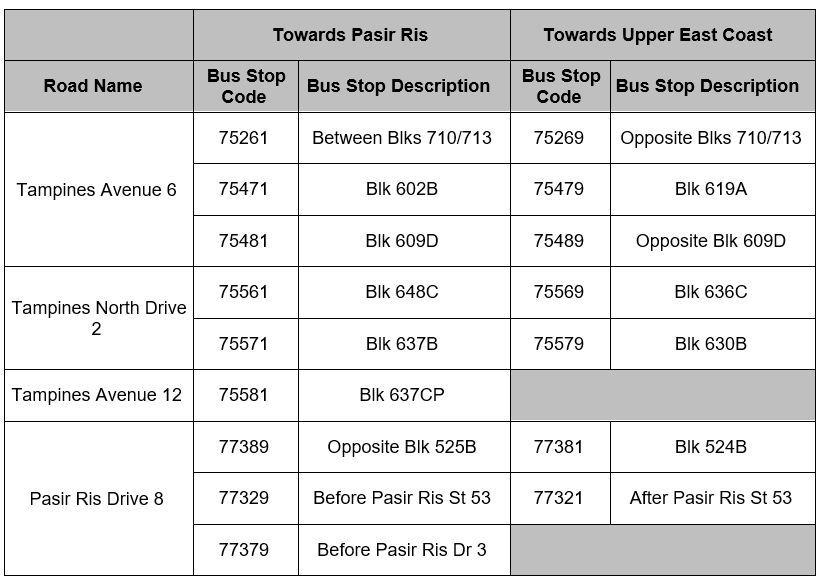 With the route amendment, Service 46 will no longer call at Tampines Bus Interchange and will skip a pair of bus stops along Tampines Avenue 5:
In front of Darul Ghufran Mosque (75129)
Opposite Darul Ghufran Mosque (75121)
To get to the skipped bus stops or Tampines Bus Interchange, commuters can take Service 46 and alight along Tampines Avenue 5 at the bus stop between Blocks 701/702 (75131) and make a same-stop transfer to Service 69 or 291. 
Service 46 will operate daily between 6.00am and 11.30pm from Upper East Coast Bus Terminal as well as Pasir Ris Bus Interchange.
Please refer to the attached poster for details.