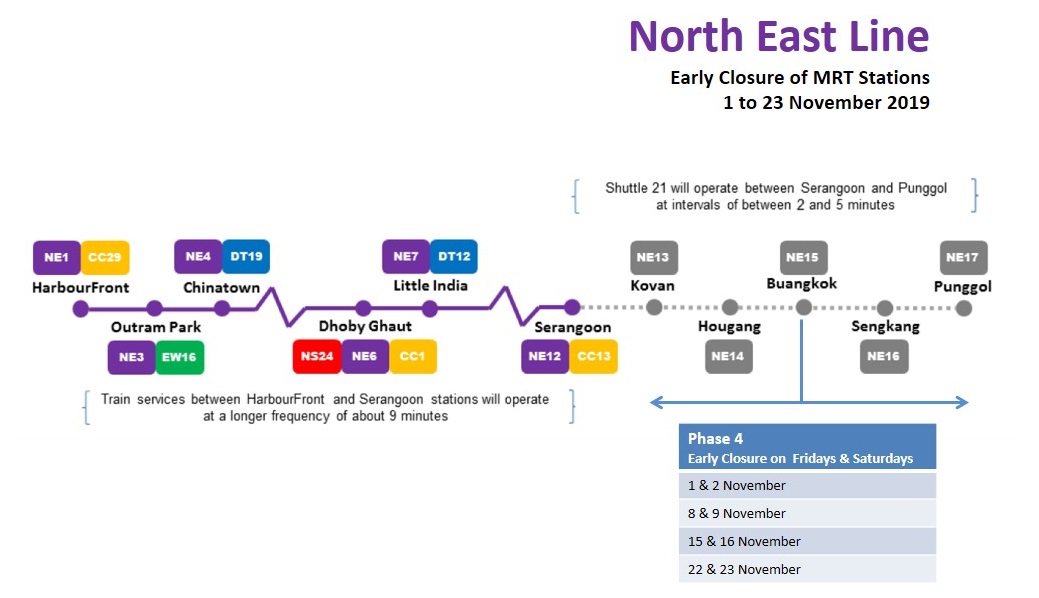 To facilitate a series of renewal and intensified maintenance works on the North East Line's (NEL) railway systems, selected stations on the NEL will close earlier at about 11.00pm on the first four Fridays and Saturdays in November 2019. Details are as follow:
Phase 4 (2019)

Dates

Stations

1 & 2 November

NE13 Kovan to NE17 Punggol

8 & 9 November

15 & 16 November

22 & 23 November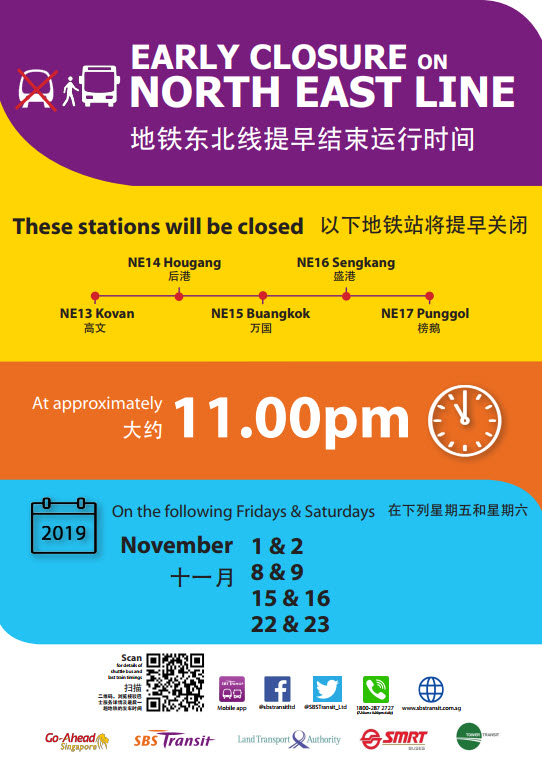 As the timings of the last trains departing each station during the planned closures will vary, commuters are advised to check for station-specific timings at affected MRT stations to plan their journeys ahead.
Phase 4 Last train timings:
Towards NE1 HarbourFront

Phase 4 Last train timings:
Towards NE17 Punggol & NE 12 Serangoon
Phase 4: Extended operational hours of Sengkang and Punggol LRT services
To maintain connectivity for commuters in Sengkang and Punggol, train services on the Light Rail Transit (LRT) systems will be extended to 1.10am and 1.15am respectively on the affected Fridays and Saturdays in Phase 4.
Phase 4: Bi-directional Train shuttle service frequency
Trains on the NEL between NE12 Serangoon and NE1 HarbourFront stations will operate bi-directional shuttle services. Trains from NE1 HarbourFront that are headed towards NE12 Serangoon Station will use a single track between Woodleigh and Serangoon stations to turn around. This arrangement will result in a longer frequency of up to nine minutes, instead of the usual six minutes.
Phase 4: Shuttle Bus 21 First/Last Bus Timings & Boarding/Alighting Points
With the planned early closure of these stations, commuters have alternative travel options - taking dedicated shuttle buses. The shuttle buses will serve the closed stations and call at designated bus stops /interchanges for passenger boarding and alighting. Fares for the shuttle services will follow the same fare structure as the trains.
Commuters should also cater for additional travel time when travelling between MRT stations using the shuttle bus services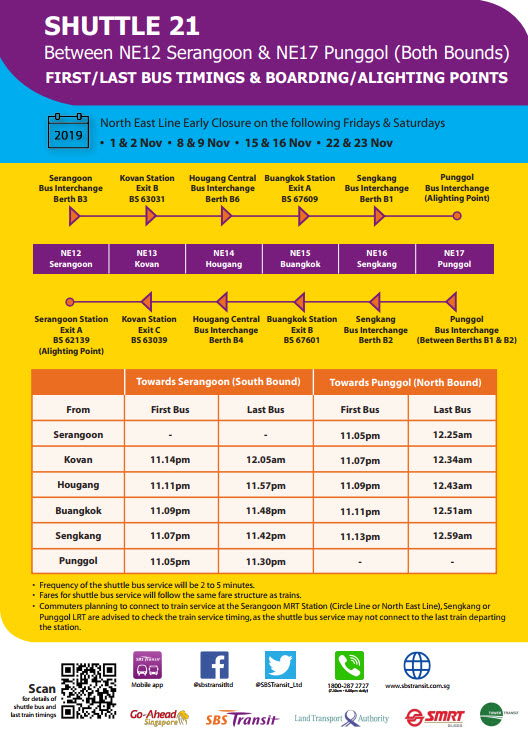 Phase 4: Bus Services at bus stops / interchanges outside closed stations
For details of bus routes that are not provided here, please visit https://www.transitlink.com.sg/TIdetail.aspx?ty=art&Id=22
NE12 Serangoon Station

Location

Services

Towards

Last Bus Timing

Serangoon Bus Interchange

100

Ghim Moh

11.45pm

101

Buangkok Link (Loop)

12.00am

103

Yishun

Friday: 12.15am
Saturday: 12.00am

105

Jurong East

12.00am

109

Changi Village

11.30pm

158

Rhu Cross (Loop)

11.30pm

315

Serangoon North Avenue 5 (Loop)

Normal: 12.50am

317

Berwick Drive (Loop)

12.50am

Serangoon Station Exit A / Bus Stop 62139

45

Ang Mo Kio Depot

12.10am

58

Bishan

Friday: 12.42am
Saturday: 12.43am

107M

Temasek Avenue (Loop)

Friday: 11.31pm
Saturday: 11.32pm

147

Clementi

11.55pm

153

Bukit Merah

Friday: 12.00am
Saturday: 11.58pm

158

Serangoon

Friday: 12.45am
Saturday: 12.44am

853

Lor 1 Geylang

12.12am
NE13 Kovan Station

Location

Services

Towards

Last Bus Timing

Kovan Station Exit B / Bus Stop 63031

80

Sengkang

Friday: 1.24am
Saturday: 1.19am

81

Tampines

12.37am

82

Punggol

Friday: 1.07am
Saturday: 1.03am

101

Buangkok Link (Loop)

12.09am

107M

Hougang Central

Friday: 12.39am
Saturday: 12.41am

112

Hougang Street 92 (Loop)

Friday: 12.46am
SaturdSaturday: 2.48am

113

Hougang Central

Friday: 12.43am
Saturday: 12.50am

136

Punggol

Friday: 11.58pm
Saturday: 11.58pm

153

Hougang Central

Friday: 12.46am
Saturday: 12.49am

Kovan Station Exit C / Bus Stop 63039

80

HarbourFront

Friday: 11.52pm
Saturday: 11.54pm

81

Serangoon Central (Loop)

Friday: 12.11am
Saturday: 12.10am

82

Serangoon Central (Loop)

Friday: 12.55am
Saturday: 12.52am

101

Serangoon

Friday: 12.51am
Saturday: 12.53am

107M

Temasek Avenue (Loop)

11.26pm

112

Hougang Central

Friday: 12.41am
Saturday: 12.42am

113

Hougang Street 11 (Loop)

Friday: 12.24am
Saturday: 12.29am

119

Hougang Street 21 (Loop)

12.00am

136

Ang Mo Kio

Friday: 12.11am
Saturday: 12.14am

153

Bukit Merah

Friday: 11.54pm
Saturday: 11.52pm
NE14 Hougang Station

Location

Services

Towards

Last Bus Timing

Hougang Central Bus Interchange

27

Changi Airport

11.50pm

51

Jurong East

11.30pm

74

Buona Vista

11.30pm

89

Airfreight Terminal Building (Loop)

11.00pm

102

Seletar Airport (Loop)

11.30pm

107M

Temasek Avenue (Loop)

11.15pm

112

Hougang Street 92 (Loop)

12.00am

112A

Terminates at Kovan Stn Exit B

12.30am

113

Hougang Street 11 (Loop)

12.10am

116

Serangoon Central (Loop)

11.30pm

132

Bukit Merah

11.30pm

147

Clementi

11.30pm

151

Kent Ridge

11.00pm

153

Bukit Merah

11.45pm

161

Woodlands

11.30pm

165

Clementi

11.20pm

324

Upper Serangoon View (Loop)

12.30am

325

Hougang Street 91 (Loop)

Extended: 12.50am

329

Buangkok Crescent (Loop)

12.30am
NE15 Buangkok Station

Location

Services

Towards

Last Bus Timing

Buangkok Station Exit A / Bus Stop 67609

27

Changi Airport

Friday: 11.58pm
Saturday: 11.59pm

43/43M

Punggol

Friday: 12.47am
Saturday: 12.51am

102

Seletar Airport (Loop)

11.43pm

Buangkok Station Exit B / Bus Stop 67601

27

Hougang Central

Friday: 1.32am
Saturday: 1.30am

43

Upper East Coast

Friday: 12.01am
Saturday: 11.56pm

43M

Serangoon Central (Loop)

Friday: 11.19pm
Saturday: 11.20pm

102

Hougang Central

Friday: 12.33am
Saturday: 12.32am
NE16 Sengkang Station

Location

Services

Towards

Last Bus Timing

Sengkang Bus Interchange

80

HarbourFront

11.30pm

83

Punggol

Friday: 1.06am
Saturday: 1.01am

86

Ang Mo Kio

11.30pm

87

Bedok

11.30pm

156

Clementi

11.30pm

159

Toa Payoh

11.45pm

163

Toa Payoh

11.30pm

163M

Sengkang West Avenue (Loop)

12.35am

371

Rivervale Crescent (Loop)

12.35am

372

Punggol Road (Loop)

12.35am

965

Woodlands

Friday: 11.37pm
Saturday: 11.35pm
NE17 Punggol Station

Location

Services

Towards

Last Bus Timing

Punggol Temp Bus Interchange

3

Tampines

12.36am

34

Changi Airport

11.45pm

43

Upper East Coast

11.45pm

43M

Serangoon Central (Loop)

11.05pm

50

Bishan

11.45pm

62

Lor 1 Geylang (Loop)

11.50pm

82

Serangoon Central (Loop)

12.30am

83

Sengkang

Extended: 1.15am

84

Punggol Road (End) (Loop)

12.35am

85

Yishun

11.30pm

117

Sembawang

11.30pm

118

Changi Business Park

11.30pm

119

Hougang Street 21 (Loop)

11.30pm

136

Ang Mo Kio

11.45pm

381

Punggol East (Loop)

12.35am

382

Sumang Link (Loop)

12.35am

382G

Sumang Link (Loop)

Extended: 1.15am

386

Punggol East (Loop)

Extended: 1.15am