SGRail Scholarship

To attract and develop engineering talent for the rail industry, LTA together with the Public Transport Operators and National Transport Workers' Union have jointly developed the Rail Manpower Development Package (RMDP). It aims to help fast-track efforts in upskilling the rail workforce and attracting more engineering talents to join the sector. It complements the operators' existing training schemes and allows more workers to undergo upskilling programmes in emerging areas such as data analytics, robotics and automation application, Internet of Applications to support both current and future needs.
The SGRail Industry Scholarship is part of the Rail Manpower Development Package (RMDP) and it will be centrally awarded and managed by LTA. Please click here to apply.
Every day, over 3.5 million of commuter journeys are taken on the rail network. In the rail industry, we continually explore the "what if" and adopt new ideas and innovative formats to improve the way we work to build a more seamless and accessible public transport system for everyone.

The SGRail Industry Scholarship offers an unrivalled opportunity for you to take the first step in your journey to build and shape the future of the rail industry. As SGRail Industry scholars, you will be exposed to projects in the Land Transport Authority and SBS Transit Pte Ltd or SMRT Corporation Limited through a structured developmental programme.
Diverse career opportunities
Your career path will be diverse and dynamic, with a wide range of specialities such as Signalling, Rolling Stock, Power, Permanent Way and Systems to choose from. You can also look forward to gaining valuable exposure and expertise in the exciting rail industry with internships in multinational corporations beyond Singapore.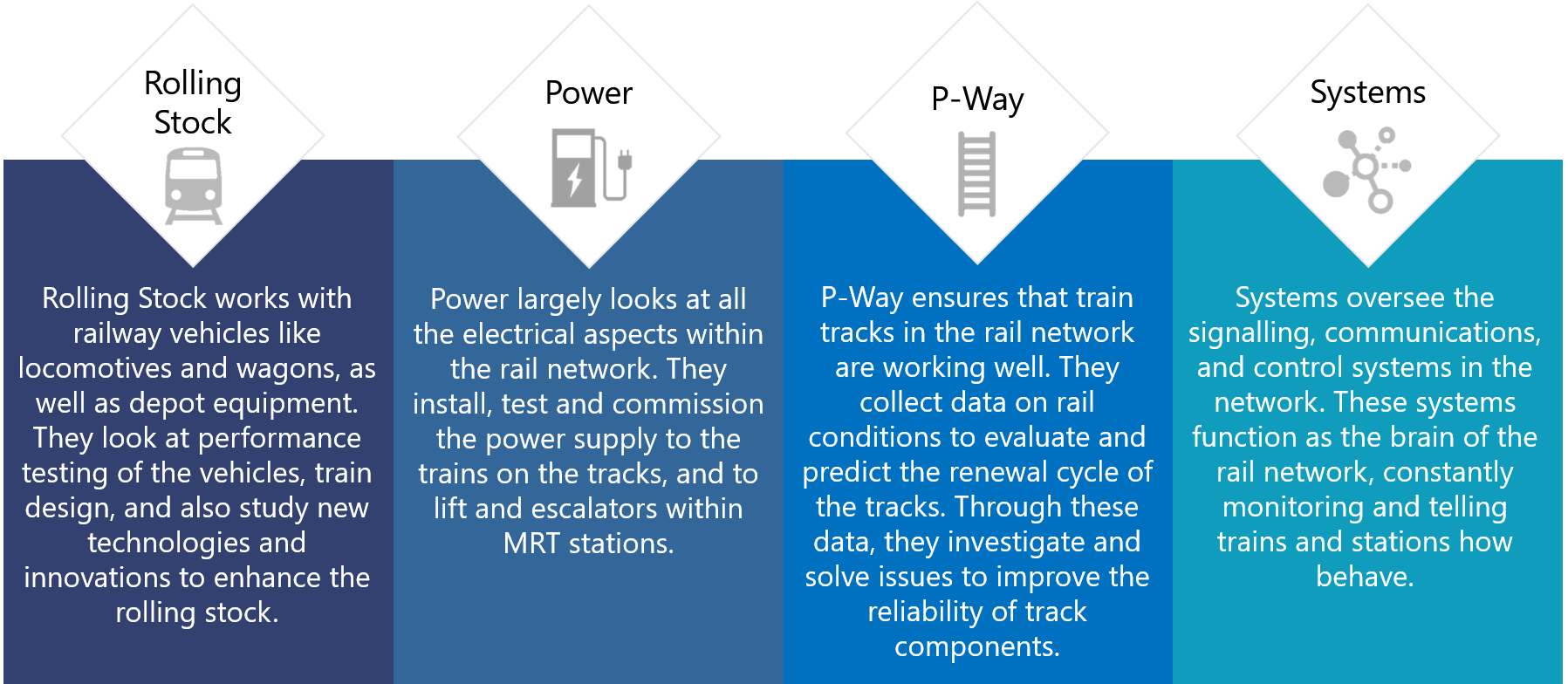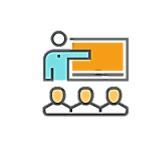 An ecosystem of mentorship
Work alongside and learn from forerunners in the rail industry, with a wealth of expertise to mentor and guide you through your rail career.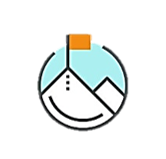 A holistic talent development programme
Through different professional career tracks and career development programmes, you get to expand your leadership skills, develop specialised rail expertise and grow your capabilities as a rail professional.
University
Requirements
Outstanding leadership qualities and keen passion for Singapore's rail sector
Excellent Co-Curricular Activities records
Excellent interpersonal and communication skills
Excellent GCE 'A' level/NUS High Diploma/International Baccalaureate/Polytechnic Diploma results or equivalent.
Outstanding university results (for current students)
Fields of Study
Electrical Engineering
Mechanical Engineering
Sustainable Infrastructure Engineering
Telematics
Value of Award
Tuition and compulsory fees
Maintenance allowance
Sponsorship for a student exchange programme/summer school (upon approval)
Return economy/student airfare (for overseas scholars)
Sponsorship of Master's degree (upon approval)
Language Immersion Programme (for students in non-English speaking countries)
Conditions of Award
Bond period for full-term awards: 4 years (local), 6 years (overseas)
Bond period for mid-term awards: 1-year bond for every year of study sponsored (local), 1.5-year bond for every year of study sponsored (overseas)

Polytechnic
Requirements
Keen passion for Singapore's rail sector
Good GCE 'O' level/NITEC/Higher NITEC and Co-Curricular Activities records
Good diploma results (for current students)
Fields of Study
Engineering Systems & Management
Electrical & Electronics Engineering
Engineering Systems
Mechanical Engineering
Mechatronics
Value of Award
Tuition fee
Annual allowance of $10,800
Conditions of Award
Bond period for full/mid-term awards: 1-year bond for every year of study sponsored Institute of Technical Education

Institute of Technical Education
Requirements
Keen passion for Singapore's rail sector
Good GCE 'N' and 'O' level results
Good NITEC results (for current students)
Fields of Study
NITEC in Electrical Technology (Power & Control)
NITEC in Mechanical Technology
NITEC in Rapid Transit Mechatronics
Value of Award
Tuition fee
Annual allowance of $6,600
Conditions of Award
Bond period for full/mid-term awards: 1-year bond for every year of study sponsored